Press Release
Tuscaloosa VA Medical Center nurses to protest for patient safety this Wednesday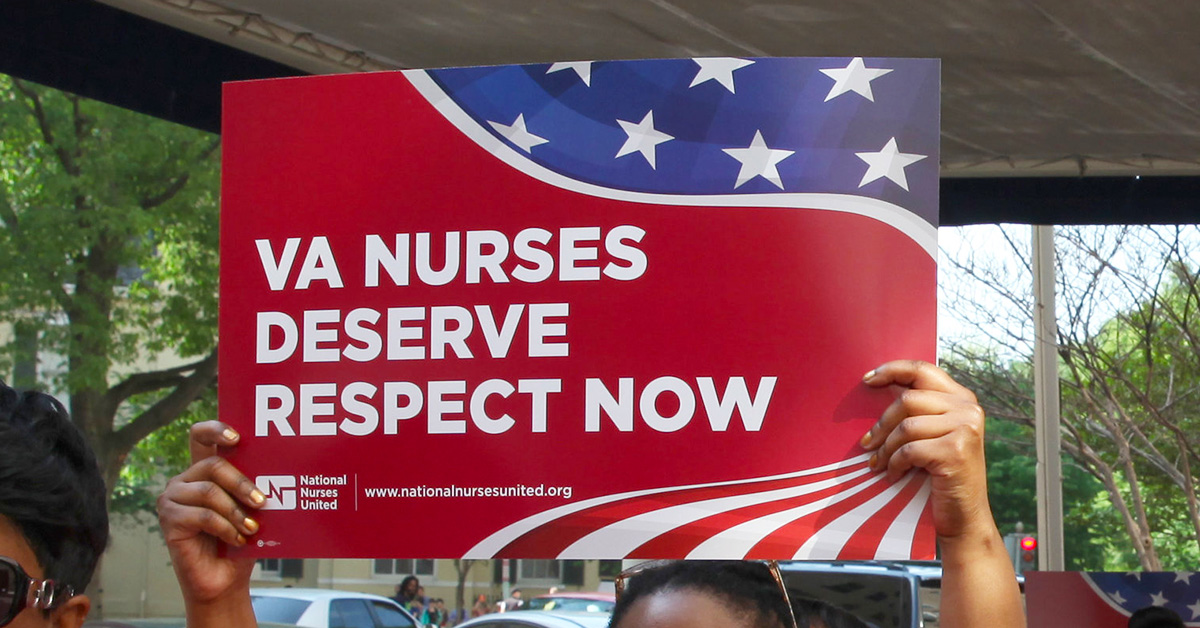 Registered nurses and nurse practitioners at the Tuscaloosa VA Medical Center (TVAMC) will protest on Wednesday, June 29 to highlight their serious patient safety concerns, specifically severe RN understaffing, and a hostile work environment that has driven a large number of staff to leave TVAMC, announced National Nurses Organizing Committee/National Nurse United (NNOC/NNU), the union representing the VA nurses.
Who:

RNs, NPs, nurses aides, doctors, and support staff at Tuscaloosa VA Medical Center

What:

Protest for patient safety

When:

Wednesday, June 29, 12:30 p.m. (protesting will happen throughout the day from 7:30 a.m.-9 a.m., lunchtime, and 3 p.m.-5 p.m.)

Where:

Tuscaloosa VA Medical Center, 3701 Loop Road East, Tuscaloosa, AL
Akeba Vester, RN and NNU director at TVAMC said, "I am a veteran, serve in the Reserves and have worked at this VA for over 14 years. Nurses are exhausted and are leaving in record numbers because of the poor working conditions. We warned the leadership for over a year now that if they do not improve the conditions under which we deliver patient care, they can expect an exodus that will be damaging to both veteran patients and staff who remain. Instead of listening, they ignored us and forced many nurses to work unsafe 16-hour shifts and are detailing nurses without adequate orientation and training to areas of the hospital they have never worked before. Nurses are not willing to be abused, risk their patients' safety, and risk their own nursing license by being put into unsafe situations. That is why nurses are leaving."
Pamela King, RN for over 18 years at TVAMC said, "There is no nursing shortage, there is only a shortage of nurses who are willing to put up with poor working conditions and disrespect."
As of Nov. 6, 2021, there are more than 4.4 million RNs with active licenses, yet according to the U.S. Bureau of Labor Statistics, there are only 3.2 million people who are employed as RNs, with 1.8 million employed in hospitals. That means there are at least 1.2 million RNs who are choosing not to practice.
"We made numerous efforts to get the attention of VISN 7 (VA Southeast Network) leadership to intervene and meet with us but have been completely ignored by them. Unless the leadership of the Tuscaloosa VA Medical Center and VISN 7 make drastic changes and start really listening to us, no matter how many new nurses they bring on, nurses will continue leaving and our nation's veterans are paying the ultimate price," continued King. An overwhelming percentage of RNs and NPs have also signed a petition stating their concerns to management.
National Nurses Organizing Committee is an affiliate of National Nurses United, the largest and fastest-growing union and professional association of registered nurses in the United States with more than 175,000 members nationwide.