Press Release
Town Hall on the Healthy California Act SB 562 Planned June 22 in Healdsburg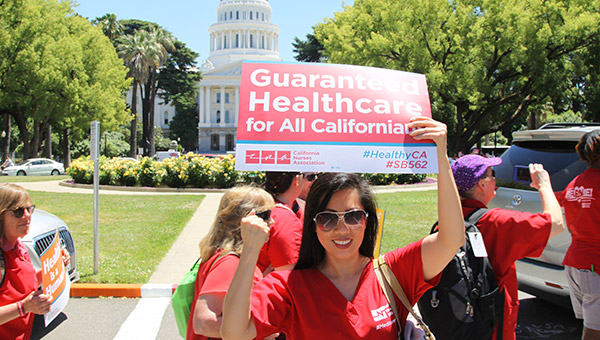 The campaign for the Healthy California Act is inviting area residents to a community town hall meeting in Healdsburg, Calif. on Thursday, June 22, to learn about SB 562, a bill introduced in the California Senate in February that would guarantee health care to all Californians by establishing a Medicare-for-all type system.
The forum is titled, "Creating the Future of Healthcare in California," and will feature presentations by Tamara Hinckley, an RN in the ICU at Sutter Santa Rosa and Dr. Veronica Jordan and RN Terry Winter, members of the Sonoma County-based group, Health Professionals for Equality and Community Empowerment (H-Peace). The forum is co-sponsored by North Bay Jobs with Justice, H-Peace, California Physicians Alliance and the California Nurses Association.
What: Town Hall Meeting on SB 562, the Healthy California Act
When: Thursday, June 22 6:30 - 8:30 p.m.
Where: Healdsburg Community Center, 1557 Healdsburg Ave. Healdsburg, Ca.
 "I support SB 562 because as an ICU nurse in Santa Rosa, I see firsthand the avoidable suffering of patients who are either under-insured or uninsured - patients that land in the intensive care unit, requiring intubation and other serious interventions because they could not afford preventative care or medications or get earlier monitoring for a developing condition," said Tamara Hinckley, RN Sutter Santa Rosa. "As a patient advocate, I'm excited to be working with RNs from across the state to support this bill. When implemented, it will greatly enhance the health and wellbeing of my patients and residents throughout the region."
"H-PEACE feels passionately that quality health care is a right that we cannot expect private industry to protect.  Single payer will go a long way to insure that right and that's why we're excited to have this forum on SB 562 in our community," said Terry Winter, RN, MPH.
The Healthy California Act, SB562 passed the full Senate in June and advocates throughout the state are now focused on urging members of the California Assembly to support the bill. The California Nurses Association/National Nurses United (CNA/NNU) is the primary sponsor, working with the Healthy California Campaign, comprised of organizations representing over six million Californians.
For more information: www.healthycaliforniaact.org