Press Release
Today Nurses Big Red #BernieBus Heads to Georgia in Campaign for Sanders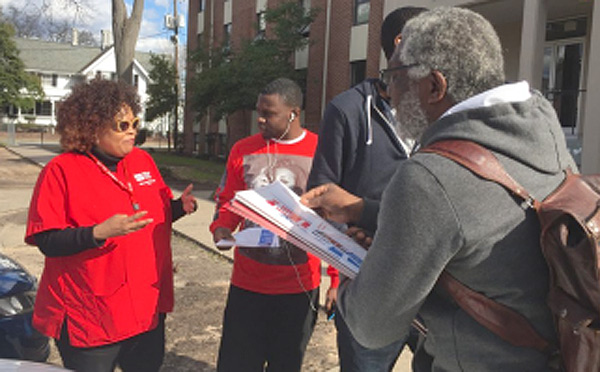 The National Nurses United #BernieBus travels to Georgia today where nurses will continue their voter outreach efforts in support of Bernie Sanders in the Augusta and Atlanta area. Nurses are seeking to connect with voters leading up to the Democratic Party primary in Georgia on March 1 to explain why they support Sen. Sanders.
Key issues for nurses are Sen. Sanders' commitment to nurses' values of caring, compassion and community. This includes his commitment to guaranteed healthcare for all, assuring equal educational opportunity for all by eliminating public college tuition to drive down student debt, raising the minimum wage to $15 an hour and creating millions of good paying jobs by rebuilding the nation's crumbling infrastructure, and broad criminal justice reform.
Where to meet nurses and the #BernieBus in Georgia:
Augusta - Thursday Feb. 18
12 p.m. Augusta Progressives lunch, Humanitree Restaurant, 230 8th St, Augusta 
2 p.m. Outreach to Walmart shoppers, 3209 Deans Bridge Rd, Augusta
Atlanta - Friday Feb. 19 - Bus will visit colleges including: Morehouse, Spelman, Clark and Georgia Tech (contact 510-435-7674 for more information)
One of the nurses on the bus, Martese Chism, recently participated in the nurses campaign in Iowa where she spent time knocking on doors talking to Iowans. "We talked about what it means to have someone who is a champion, but also has a movement behind him. You need both to achieve social change."
 
Yesterday nurses aboard the bus visited college campuses in Orangeburg and Columbia, South Carolina joined by Dr. Willie Legette, a professor of political science at South Carolina State University.
"Bernie Sanders' candidacy is important to the Black community as a whole, and to Black students in particular," said Dr. Legette. "All of Bernie's core issues - from a free college education to Medicare for All to a $15 minimum wage - speak directly to the needs and interests of Black Americans."
Last week the nurses paid their first visit to South Carolina State University, where students posed with the #BernieBus, many holding signs voicing support for Sen. Sanders and his proposal for free public college and university tuition paid for by a financial transaction tax.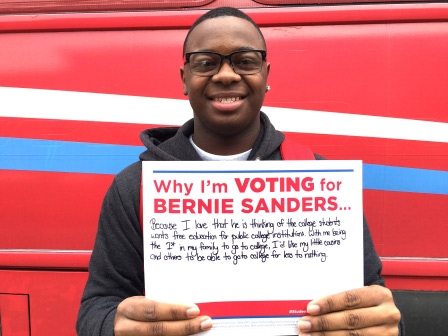 A student in the photo above at South Carolina State University holds a placard reading: "Why I'm voting for Bernie Sanders...'because I love that he is thinking of the college students and wants free education for public colleges and universities.  I'm the first in my family to go to college and I'd like to see my little cousins and others to have that same opportunity."
National Nurses United, the largest organization of registered nurses in the U.S. with over 185,000 members in all fifty states, was the first union to endorse Sen. Sanders for president. NNU members have been conducting voter outreach for Sanders in early primary states and supporting the campaign by organizing house parties, participating in rallies, canvassing and phone-banking.