Press Release
Thousands Urge Pres. Obama, Sec. Lew to Support 
Robin Hood Tax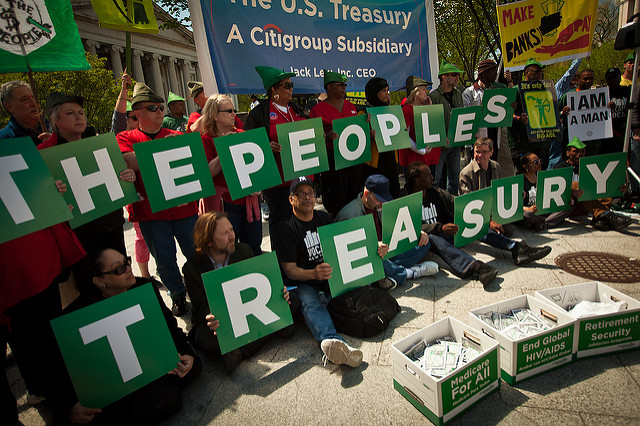 Rally Follows on Heels of Reintroduction of Ellison Bill H.R. 1579 in Congress
See photos: http://www.flickr.com/photos/nationalpeoplesaction/sets/72157633287320655
Washington, D.C. – Nearly 2,000 people, decked out in Robin Hood hats and with giant puppets of Wall Street bankers descended on DC today to demand President Obama and Treasury Secretary Lew stop pursuing austerity and instead support a financial transaction tax on Wall Street, commonly referred to as a "Robin Hood Tax."
"Americans are fed up with the austerity agenda that leaves corporations with record low tax rates," said George Goehl, executive director, National People's Action. "We know where the money is. It's not in grandma's social security check, it's not in our children's classroom, and it's not in the pockets of working class families. It's on Wall Street, and it's time for President Obama and Secretary Lew to step up to the plate and support everyday Americans by supporting the Robin Hood Tax."
Today's events started with a rally on Farragut Square, and included a march around downtown Washington with stops in front of the White House and the US Treasury. Rally goers chanted, held up banners chiding the treasury as an instrument of big banks, and waved massive puppets of wealthy Wall Street bankers.
"In the world beyond the Beltway, people are still hurting. What they care about is not the debt ceiling or the fiscal cliff or the budget deficit. What they care about is the job deficit, the health care deficit, the housing deficit, the retirement deficit," said Jean Ross, Co-President of National Nurses United. "What people don't need is more austerity, like more cuts, to Social Security, and other programs that help people. That's why nurses for two years have been campaigning across the country for more revenue for our cities, our communities, our patients with a tax on Wall Street speculation."
The April 20 actions coincide with meetings of G-20 finance ministers in Washington and take place three days after the reintroduction of the "Inclusive Prosperity Act, H.R. 1579" sponsored by Rep. Keith Ellison (D-MN), legislation that embodies the goals and principles of the Robin Hood Tax Campaign.
Ellison's bill would create a Wall Street sales tax, providing hundreds of billions of dollars in new revenue every year at a time of great need, and allow the United States to join the rest of world in a growing system of financial transaction taxes. In an era where excessive budget cuts have led to rising class sizes, unaffordable housing, and cuts to long relied upon benefits for the elderly, a tax on Wall Street is gaining popularity.
Dozens of countries already have in place a system of financial transaction taxation, including Germany, France, and Italy among others.
www.robinhoodtax.org
###