Press Release
Sutter RNs Offer to Postpone Strike if Hospitals Withdraw Concession Demands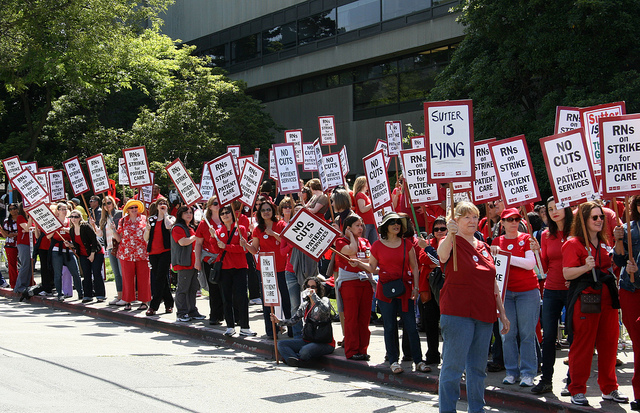 Note Growing Mental Health Crisis
San Jose Walkout Monday to Emphasize Staffing Concerns
 
Registered nurses at Bay Area Sutter hospitals have offered to call off plans for a one-day strike Monday, December 24 if Sutter executives agree to withdraw demands for sweeping and unwarranted reductions in patient care protections and other contract standards, which is at the heart of the dispute between the California Nurses Association/National Nurses United and local Sutter hospitals
The offer is made in a letter to Sutter CEO Pat Fry and chief executives of Sutter's Alta Bates Medical Center facilities in Berkeley and Oakland, Eden Medical Center in Castro Valley, San Leandro Hospital, Sutter Solano in Vallejo, and Sutter Delta in Antioch. Other Sutter hospitals in San Mateo, Sonoma, Lake and Santa Cruz counties have withdrawn concession demands in recent months, which rapidly led to new contract agreements between those hospitals and the RNs.
San Jose RNs take a stand for safe staffing
If Sutter fails to respond, the RNs will go ahead with a 24-hour strike on Monday. They will be joined by RNs at two San Jose HCA-affiliated facilities, Good Samaritan Hospital and Regional Medical Center.
In San Jose, the key issues are hospital management's rejection of the nurses' proposals for improvements in safe staffing and other patient care conditions, including sufficient staff for incoming patients and designated lift teams to safely move and transport patients to reduce accidents and injuries to nurses and patients alike. Additionally, the nurses are protesting employer demands to eliminate guaranteed pensions for RNs as well as major cuts in health, dental, and vision care benefits.  
"Like so many of my colleagues, I have raised a family here in San Jose," said Amy Santos, RN in the telemetry care unit at San Jose's Regional Medical Center.  "We need to have patient care protections such as safe patient lifting teams, and appropriate staffing at all times as patients are admitted and discharged throughout the day. That is not the case on the majority of our units at this time."
The San Jose nurses are protesting the slow pace of bargaining, particularly the hospitals' recent cancellation of bargaining scheduled earlier this week.
Sutter nurses are protesting some 100 concession demands, such as proposals to eliminate paid sick leave, effectively forcing nurses to work when ill, exposing already frail and vulnerable patients to further infection, a particularly disturbing proposal heading into flu season. Another key concern is Sutter's demand to eliminate all health coverage for nurses who work 30 hours a week or less – which would end all health coverage for up to 600 RNs plus several hundred of their family members.
Mental health cuts prompt growing alarm at Sutter hospitals
For months, Sutter RNs have also criticized Sutter's severe cuts in patient care services throughout the region. The effects are especially alarming in mental health services, an issue gaining national attention in the wake of the horrific shooting at a Connecticut elementary school last week.
Sutter has slashed the number of in-patient beds for both adult and adolescent mental health patients at its Alta Bates Herrick facility, the main Sutter facility providing East Bay regional mental health services, and increasingly focusing instead on private paying patients with eating disorders.
The regional problem was exacerbated by the closure earlier this year of the in-patient psychiatric unit at Eden and the decision to route those patients to Herrick for needed care, although nurses at Herrick note there has not been an influx of patients formerly seen at Eden's inpatient psychiatric unit. Similarly, in the Sacramento region, Sutter stopped providing psychiatric services under contract with Sacramento County for over 225 Sacramento children.
"At a time when mental illness is on the rise, Sutter Health in particular, has made major cuts in services throughout its psychiatric units—adolescent, adult and geriatric---nothing has been spared," noted Efren Garza, who has worked as a both an adult and adolescent psychiatric RN for 26 years, the last nine at  Herrick. "At a time of diminishing services, we are witnessing a tide of sicker patients being admitted and too often prematurely discharged only to return again."
 
"Even with the units that remain open, nurses are working short staffed everyday on every shift, putting patient safety in jeopardy. Desperately needed open RN positions are not advertised and remain unfilled. Sutter's focus on private-pay "commercial" customers means patients of lower socio-economic status instead of being admitted to Herrick Hospital, are being sent to free-standing facilities that provide less comprehensive and less thorough care. It's a deadly cycle that needs to end with the restoration of vital services to our communities."
On top of the concession demands and cuts in care, Sutter has committed unfair labor practices, says CNA. The regional federal labor board has ruled that the various Sutter hospitals have carried out many unlawful disciplinary acts against RNs and techs, discrimination against pro-CNA RNs, unlawful implementation of some severe contract changes, and failed to provide certain information during bargaining.
Sutter remains one of the most profitable hospital systems in the U.S. Since 2007 alone, Sutter has racked up $3.6 billion in profits, including $660 million for the first 9 months of this year
Sutter pays 28 top executives more than $1 million in compensation, by far the most lavish spending on executives among all California hospital systems. Sutter CEO Pat Fry received more than $5.2 million in total compensation in 2011, according to Sutter's IRS filings, an increase of 183 percent in just four years. Sutter East Bay Region President David Bradley's 2011 compensation exceeded $1.6 million, a whopping 216 percent increase in four years.