Press Release
Sutter Health nurses ratify strong contracts to improve recruitment and retention, patient safety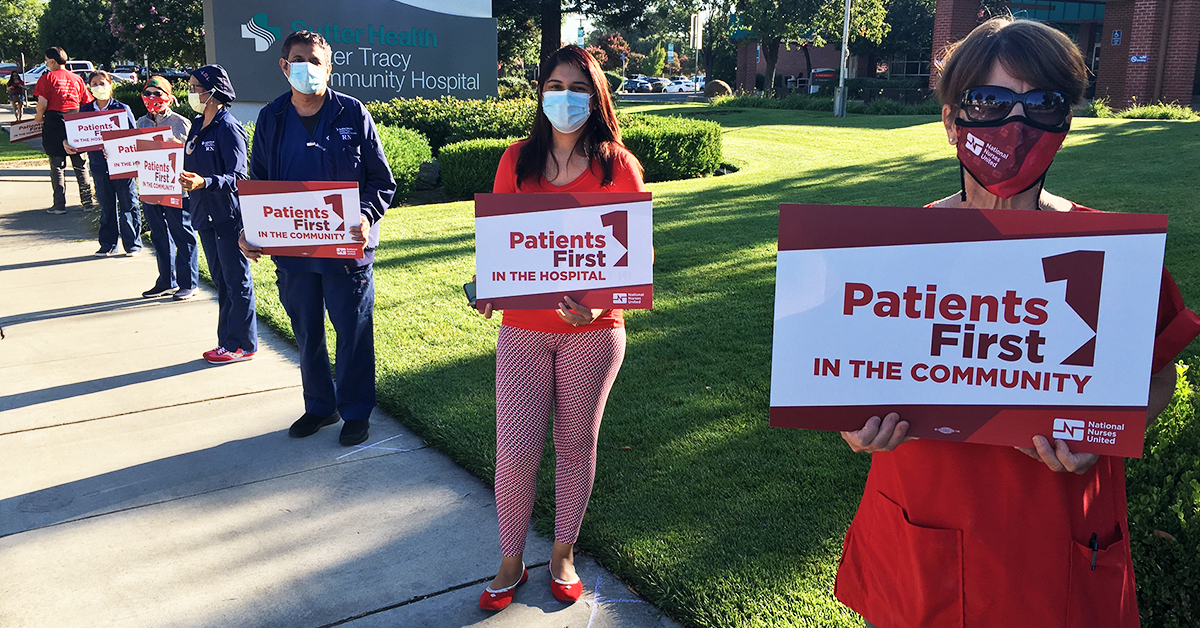 Registered nurses at Alta Bates Summit Medical Center (ABSMC) voted overwhelmingly to ratify their collective bargaining agreement today, concluding a 21-month system-wide contract fight with Sutter Health, announced California Nurses Association/National Nurses United (CNA/NNU).
"We fought hard for 21 months to get where we are today," said Ann Gaebler, a neonatal ICU RN at ABSMC. "We didn't get everything that we wanted. But we made important gains to retain staff, and stop them from fleeing to other facilities. We will continue to address staffing at our hospital and fight for quality patient care."
Registered nurses across 16 facilities in Northern California have been bargaining with Sutter Health management since June 2021 for greater investments in nursing staff and protections for pandemic-readiness and workplace violence. In April 2022, 8,000 nurses participated in a historic one-day strike to call attention to Sutter Health's refusal to accept nurses' common-sense proposals for improved nurse and patient safety.
"Sutter nurses across Northern California showed incredible unity and determination to make this victory possible," said Juan Torres, an emergency department RN at Sutter Delta Medical Center in Antioch. "Since 2021, nurses from the Bay Area to the Central Valley and as far north as Crescent City have been organizing, striking, and fighting together in solidarity for critical workplace improvements that will benefit nurses and our patients. Sutter didn't make it easy for us, but our solidarity was more powerful than management's tactics."
Eighty-seven percent of nurses voted to ratify the contract after ABSMC's bargaining team signed the tentative agreement (TA) with Sutter on Feb. 24. The agreement will be in effect at ABSMC through Nov. 2027, while the agreements at the other Sutter hospitals run through Dec. 2026.
"I am so happy that ABSMC members have a contract," said Paula Lyn, RN and a board member of CNA. "They fought hard against Sutter to improve patient care conditions for residents of Berkeley and Oakland and the surrounding areas. All Sutter nurses deserve our congratulations."
The agreements also broke new ground as initial contracts for some of the Sutter nurses.
"Our first contract is a historic win for our stand-alone psychiatric hospital!" said Laura Dixon, a registered nurse at Sutter Center for Psychiatry in Sacramento, where nurses voted to form a union in November 2021. "This represents the culmination of our work to come together and have a voice in the workplace. We are excited to have contract language that ensures our hospital has both a professional practice committee and a staffing committee. Both are a gateway for nurses to advocate for our specific patient population and to improve the quality of care. We now have a say in how our patients are cared for."
While nurses approved contracts specific to their facility, highlights applicable across all 16 facilities include:
Patient and nurse safety protections: new workplace violence language to ensure the hospitals maintain sufficient security systems and violence prevention plans; maintenance of a three-month stockpile of PPE; presumptive eligibility for workers' compensation during a state-declared pandemic or epidemic.
Recruitment and retention strategies: improved meal and break assurances; wage increases ranging from 21 percent to 32 percent over the life of the agreements, with Sutter hospitals bargaining their first contract receiving as much as 25 percent to 55 percent increases, with additional step increases; differentials for weekends and charge nurses duties; tuition reimbursements.
The new agreements apply to California Nurses Association registered nurse members at the following Sutter Health facilities:
Sutter Delta Medical Center, Antioch
Sutter Auburn Faith Hospital and Sutter Auburn Home Health and Hospice, Auburn
Mills-Peninsula Medical Center, Burlingame
Eden Medical Center, Castro Valley
Sutter Coast Hospital, Crescent City
Sutter Lakeside Hospital, Lakeport
Novato Community Hospital, Novato
Alta Bates Summit Medical Center, Oakland *three campuses
Sutter Roseville Medical Center, Roseville
Sutter Center for Psychiatry, Sacramento
Santa Cruz VNA, Santa Cruz
California Pacific Medical Center, San Francisco *two campuses
Sutter Santa Rosa Regional Hospital, Santa Rosa
Sutter Tracy Community Hospital, Tracy
Sutter Solano Medical Center, Vallejo
CNA represents 8,000 nurses across 16 Sutter Health facilities in Northern California.
---
California Nurses Association/National Nurses United is the largest and fastest-growing union and professional association of registered nurses in the nation with 100,000 members in more than 200 facilities throughout California and nearly 225,000 RNs nationwide.