Press Release
Supporters Urge Legislators to Advance Single Payer Bill SB 562 at Public Hearing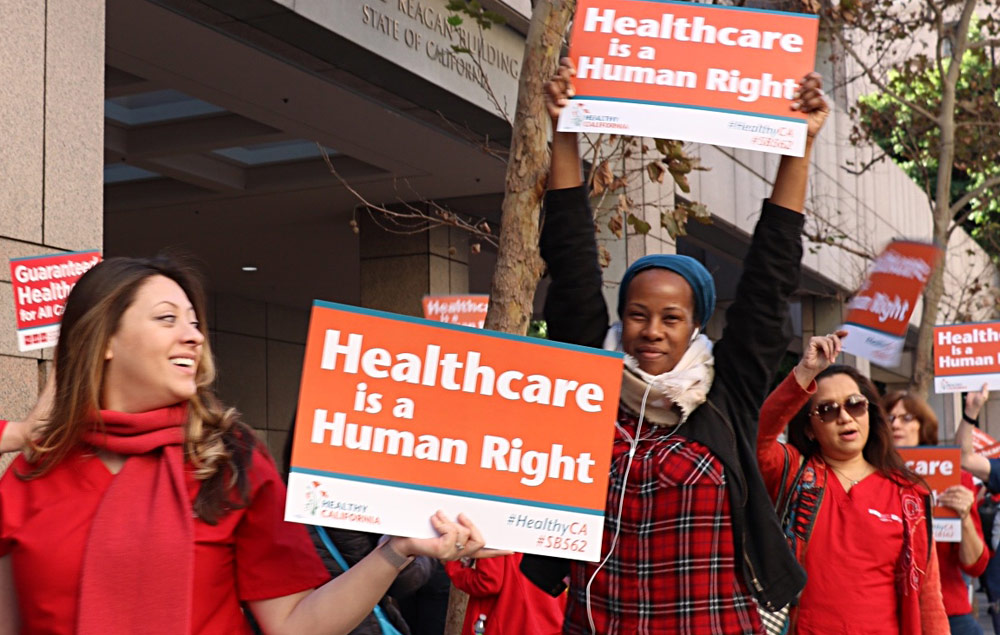 Sacramento, Wednesday, January 17
"We will keep organizing and speaking out until healthcare is a right for all Californians, not a privilege"
Members of California Nurses Association (CNA) and the Healthy California campaign will converge at a public hearing on healthcare in California in Sacramento, Wednesday, January 17, to urge legislators to move forward with SB 562, legislation for a single payer health plan that would guarantee comprehensive health care for all residents in the state.
"For months, thousands of Californians have been standing upin a grassroots movement for a single payer system that puts patients before insurance industry profits," said CNA co-president Malinda Markowitz, RN. "Meanwhile, our legislators have been doing nothing to move on SB 562, the bill that would guarantee healthcare coverage to all Californians. These hearings are for show, and nothing changes. We are here to demand SB 562 move forward."
Sacramento, Wednesday, January 17
What: Rally and press conference to support SB 562 at public hearing convened by the Assembly Select Committee on Health Care Delivery Systems and Universal Coverage
When: 11 am – 12 noon
Where: North Capitol Steps, Sacramento, CA
Assembly Select Committee Hearing on Health Care 1-5 pm, Room 4202, Capitol Building
The public hearing is the third convened by the Assembly Select Committee on Health Care Delivery Systems and Universal Coverage. Assembly Speaker Anthony Rendon created the select committee, which has no legislative power, as a stalling tactic, rather than follow democratic processes and allow SB 562 to move forward in the Assembly after it passed the Senate in June.
After parking the bill, Rendon recently stated that SB 562 sponsors have "sat on their hands and done nothing the past six months" – a statement strongly condemned by SB 562 supporters.
"Perhaps Speaker Rendon is confusing his own inaction, after undemocratically parking SB 562, with the clear, loud stand thousands of Californians have taken for months, demanding Rendon unfreeze this lifesaving bill so it can move forward," said CNA Associate Executive Director, Bonnie Castillo, RN. "We will continue to show up at these hearings to let legislators know that we are watching, and that we will keep organizing and speaking out until healthcare is a right for all Californians."
SB 562 sponsor and advocate actions in the past six months include:
Published study by expert economists at UMass Amherst, setting forth a mechanism on how to pay for SB 562

17 amendments proposed

200 canvassing events held statewide, covering all 80 Assembly districts

15,000 supporters gathered at in-person events across California

6,000 doors knocked

1,500 new volunteers added to canvassing efforts

35 district office visits conducted

Thousands of phone calls made

21 more canvasses are scheduled for January, 2018 alone
Over the upcoming Martin Luther King Jr. weekend, SB 562 supporters will continue the grassroots campaign with door-to-door outreach and petition drives in communities throughout the state including: Antioch, Glendale, Inglewood, San Francisco, San Juan Capistrano, Santa Monica, Ukiah, and Whittier. They also plan a single payer contingent in the MLK march and rally in Los Angeles on Monday, January 15.
With such a strong grassroots movement to advance SB 562, supporters say they expect the same hard work on the bill from legislators, not a breach of the public's trust by halting the normal legislative process.
At the Select Committee's second public hearing held last month in Los Angeles, Assemblymember Laura Friedman, a co-sponsor of SB 562, said in her closing comments, "Hearing these presentations is like rearranging the chairs on the Titanic to talk about how we're going to make the system a little bit better." Looking out over the auditorium, packed with SB 562 supporters, Friedman continued, "What everyone's looking for, and you see it in this room and we hear from our constituents all the time, is that they just want the certainty that they are going to be taken care of when they are sick. The system that seems to give everyone that is single payer like they have in other countries."
For more information on SB 562 and the Campaign for a Healthy California visit: www.healthycaliforniaact.org