Press Release
Strikes by Kaiser, Tracy, Watsonville RNs Kick Off Actions for Patient Safety and Ebola Precautions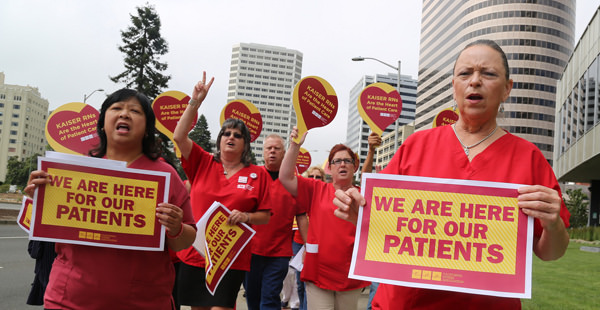 Two-day strikes starting Tuesday that affect nearly 20,000 registered nurses at 86 Kaiser Permanente hospitals and clinics, a Sutter hospital in Tracy, and Watsonville Community Hospital kicking off a wave of protests at 15 states and the District of Columbia over eroding patient care conditions symbolized by inadequate Ebola safeguards at most U.S. hospitals.
Kaiser RNs and nurse practitioners will be on strike at 7 a.m. Tuesday morning in Antioch, Fremont, Fresno, Oakland, Redwood City, Richmond, Roseville, Sacramento, San Francisco, San Jose, San Leandro, San Rafael, Santa Clara, Santa Rosa, South Sacramento, South San Francisco, Stockton, Vacaville, Vallejo, Walnut Creek. Large noon rallies will be held at Kaiser Oakland and Kaiser South Sacramento.
Tuesday's strikes, which have a particular focus on patient care concerns from safe staffing to cuts in patient services to safe patient handling practices.
On Wednesday, November 12, California RNs will join with nurses and allies in 14 other states and the District of Columbia to step up the call for improved safeguards in the face of the deadly Ebola virus. In California, in addition to Kaiser, Sutter Tracy and Watsonville, nurses will also be picketing at hospitals that are part of Dignity Health, Sutter, St. Joseph Health System, Memorial Care, and the University of California medical centers.
For striking nurses, the failure to secure Ebola safeguards symbolizes what nurses see as a steady erosion in care standards that increasingly put patients as well as nurses and other frontline health workers at risk.
"Nurses, who have been willing to stand by the patients whether it's the flu, whether it's Ebola, whether it's cancer, are now being asked to put themselves in harm's way unprotected, unguarded," said NNU Executive Director Rose Ann DeMoro, in a press conference announcing the actions.
On patient care issues, Kaiser RNs have cited cuts in hospital services at a number of Kaiser hospitals, sharp restrictions on admitting patients for hospital care or early discharge of patients who still need hospitalization.    
"In our Emergency Department," said Kaiser Redwood City RN Sheila Rowe today, "we are holding patients who should be admitted to the hospital.  These elderly patients are kept on uncomfortable gurneys for many hours, unable to rest or sleep because of the noise and influx of patients."
Kaiser RN Katy Roemer told reporters over the weekend that Kaiser nurses are "not seeing the resources we need on a daily basis to provide safe care. We are going out on strike about patient safety issues."
"Our call for a strike speaks loudly and clearly that we want management to stop their stalling in bargaining our first contract, stop the unfair labor practices, and provide the safeguards and resources needed to deliver safe patient care.  It's high time to listen to the nurses," said Sutter Tracy RN Dotty Nygard.
On Ebola, what NNU is demanding is the optimal personal protective equipment for nurses and other caregivers who interact with Ebola patients. That means full-body hazmat suits that meet the American Society for Testing and Materials F1670 standard for blood penetration, F1671 standard for viral penetration, and that leave no skin exposed or unprotected, and National Institute for Occupational Safety and Health-approved powered air purifying respirators with an assigned protection factor of at least 50.
Second, that all facilities provide continuous, rigorous interactive training for RNs and other health workers who might encounter an Ebola patient, that includes practice putting on and taking off the hazmat suits where some of the greatest risk of infection can occur.
California Actions
Tuesday, November 11 – all picket lines 7 a.m. to 7 p.m. all actions Kaiser unless noted
Antioch – 4501 Sand Creek Rd.
Fremont – 39400 Paseo Padre Parkway
Fresno – 7300 North Fresno St.
Manteca – 1777 W. Yosemite Ave.
Modesto – 4601 Dale Rd.
Oakland – 280 W. MacArthur Blvd.; rally at 12 noon
Redwood City – 1150 Veterans Blvd.
Richmond – 901 Nevin Ave.
Roseville – 1600 Eureka Rd.
Sacramento – 2025 Morse Ave.
Sacramento Call Center – 2040 Arden Way
San Francisco – 2425 Geary Blvd.
San Jose – 250 Hospital Parkway
San Leandro – 2500 Merced St.
San Rafael – 99 Montecillo Rd.
Santa Clara – 700 Lawrence Expressway
Santa Rosa – 401 Bicentennial Way
South Sacramento – 6600 Bruceville Rd.; rally at 12 noon
South San Francisco – 1200 El Camino Real
Stockton – 7373 West Lane
Vacaville – 1 Quality Dr.
Vallejo – 975 Sereno Dr.
Vallejo Call Center – 1617 Broadway
Walnut Creek – 1425 South Main St.
Sutter Tracy – 1420 N. Tracy Blvd.; rally 11:30 a.m.
Watsonville Community Hospital – 75 Nielson St.
Wednesday November 12. Picketing and rallies
Pickets continue at all the same locations where RNs are on strike November 11. 
Additional Actions:
Oakland – Kaiser rally, 10:30 a.m., Kaiser corporate offices, 1950 Franklin St.
Oakland – Major Rally, 12 noon, Ronald V. Dellums Federal Building, 1301 Clay St.
Hospital picketing:
Bakersfield – Mercy Hospital, 2215 Truxtun Ave., pray-in, 9 a.m.-10 a.m.;
Bakersfield Memorial Hospital, 420 34th St., 11:30 a.m.- 1 p.m.
Long Beach – St. Mary Medical Center, 1050 Linden Ave., 7 a.m. – 8 a.m.;
Long Beach Memorial Medical Center, 2801 Atlantic Ave., vigil, 6 p.m. – 8 p.m.
Los Angeles – UCLA Medical Center, 757 Westwood Plaza, 6:30 a.m. – 8 a.m.;
California Hospital, 1401 South Grand Ave., 12 noon – 1 p.m.
Oakland – Alta Bates Summit Medical Center, 280 Hawthorne, 10:30 a.m. – 12 noon
Sacramento – UC Davis Medical Center, 2315 Stockton Blvd., 6:30 a.m. – 8 a.m
San Bernardino – Community Hospital, 1805 Medical Center Dr., 11 a.m. – 2 p.m.
San Diego – UC San Diego Medical Center, 200 West Arbour Dr., 6:30 a.m.- 8:30 a.m.
San Francisco – UCSF Medical Center, 500 Parnassus Ave., 6:30 a.m. – 8 a.m.;
California Pacific Medical Center, 2333 Buchanan St., 9:00 a.m. – 10:30a.m.;
St. Mary Medical Center, 450 Stanyan St., 12 noon – 1:30 p.m.
Santa Cruz – Dominican Hospital, 1555 Soquel Dr., 11:45 a.m. - 12:45 p.m.
Santa Monica – UCLA Medical Center, 1250 16th St., 6:30 a.m. – 8:30 a.m.;
St. John's Health Center (additional details TBD)