Press Release
St. Joseph Eureka Nurses Demand Hospital Approve Workplace Violence Protections, After Multiple RNs Attacked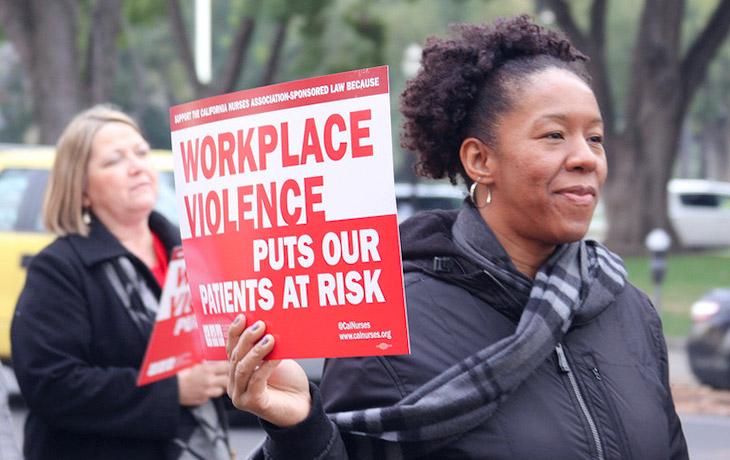 On the heels of multiple recent attacks against registered nurses at St. Joseph Hospital in Eureka, RNs will gather in front of the hospital Monday, July 29 to demand management approve a nurse-driven workplace violence prevention proposal, the California Nurses Association announced today.
"Registered nurses go to work with the goal of helping our patients heal. We must be allowed to do this in the safest possible environment—because if we aren't safe, how can we keep our patients, families and visitors safe?" said inpatient rehab unit RN Lesley Ester. "Violence impacts everyone in the vicinity, and our employer should be doing everything in its power to stop violence before it occurs. Nurses are experts on the specific dangers we face, day to day, in our specific units, and we call on Providence St. Joseph Health to embrace our workplace violence prevention proposal."
What: St. Joseph Eureka RNs call on hospital to adopt strongest workplace violence protections
When: Monday, July 29, 3 p.m.
Where: St. Joseph Hospital, Eureka (nurses will gather at Harrison Ave. and St. Joseph Lane, by main hospital sign)
The proposal, which would be enshrined in the nurses upcoming contract,if approved, echoes a California law mandating that all health care workplaces in the state must have a comprehensive, unit-specific workplace violence prevention plan in place—created with nurse input. At present, RNs say the hospital has an ineffective plan in place, created with no nurse input and featuring no clear reporting mechanism. The proposal would also call on the hospital to reinstate a workplace accident and injury program, which provides financial relief to nurses who are hurt on the job. 
Emergency room RN Randee Litten, one of the nurses recently attacked, said it's critical for the hospital to be held accountable, with the help of strong contract language. Litten was punched in the face by a patient, and the next day, a fellow ER nurse was punched in the throat.
"I work in the hospital ER in Eureka so I understand very well that there are inherent risks in my work. However, I want my employer to have my back and to take every measure to make sure I am not punched in the face by a patient again, and that if I am, I will have every available resource for my recovery," said Litten. "St. Joseph has fallen short on both counts."

RNs say that heading into bargaining again on Monday, they want to send a strong message to management that theirpatients deserve a safe place to heal, and nurses deserve a safe place to work.

"Going forward, I want for every one of my coworkers to be safe while we care for Eureka's patients," said Litten. "We deserve nothing less."