Press Release
South Lake Tahoe RNs Vote by 88% to Join CNA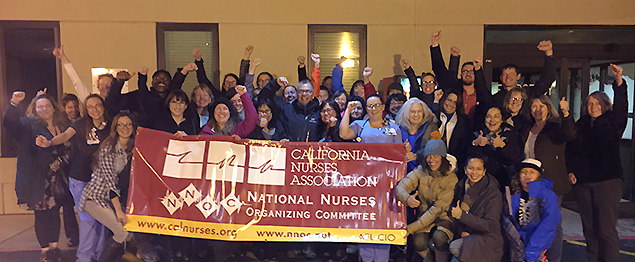 Barton Memorial Win Caps Banner Organizing Year for CNA
Capping a banner year of union organizing for California's largest organization of Registered Nurses, RNs at Barton Memorial and Lake Tahoe Surgery Center in South Lake Tahoe, Ca. voted by 88 percent Wednesday night to join the California Nurses Association/National Nurses United.
The tally was 123 to 17 for CNA in a secret ballot election conducted by the National Labor Relations Board. CNA will represent 200 RNs at the facilities that are part of the Barton Health system, which covers the scenic Lake Tahoe region.
With the Barton vote, 3,000 caregivers in 10 union elections have now voted to have collective representation this year, "a record of incredible accomplishment for CNA that will strengthen the ability of RNs to promote safer care conditions for all Californians," said CNA Co-President Malinda Markowitz, RN, who is also an NNU vice-president.
"We are proud of the Barton RNs and all their colleagues from Redding to Anaheim for choosing to unite with all California nurses to upgrade conditions and advocate for their patients, their co-workers, and their communities," Markowitz said.
What the wave of RN union votes represents, Markowitz continued, is "a growing recognition by RNs in California and around the nation that by uniting their voices in their workplace with the record of CNA and NNU they can have an enormous impact for their patients, as well as for advancing care standards everywhere. These votes are testimony to the historic achievements of our organization."
As with earlier votes this year, Barton RNs cited a desire to work for enhanced patient care staffing and standards for nurses as key reasons for affiliating with CNA.
"As patient advocates, we have voted for CNA representation in order to improve staffing and enforce state mandated nurse to patient ratios. Now, as we move to bargain a contract with Barton, this will be one of our main priorities," said Barton RN Watson Kambenja.
"As RNs, patient safety is always our top priority. However, with constant turnover retaining experienced nurses has been increasingly difficult. We want to see competitive wages and benefits so that we can recruit and retain experienced RNs at Barton and improve the standard of patient care at the hospital," Barton RN Paris Kelly, added.
The next step for Barton RNs is to elect a team of their colleagues to represent them in talks with hospital officials on a first collective bargaining contract.
Overall, CNA represents some 100,000 RNs in California, a majority of the state's hospital nurses, part of 150,000 RNs represented by NNU across the U.S.