Press Release
Shasta Regional nurses ratify new contract with strong measures to improve patient safety and retention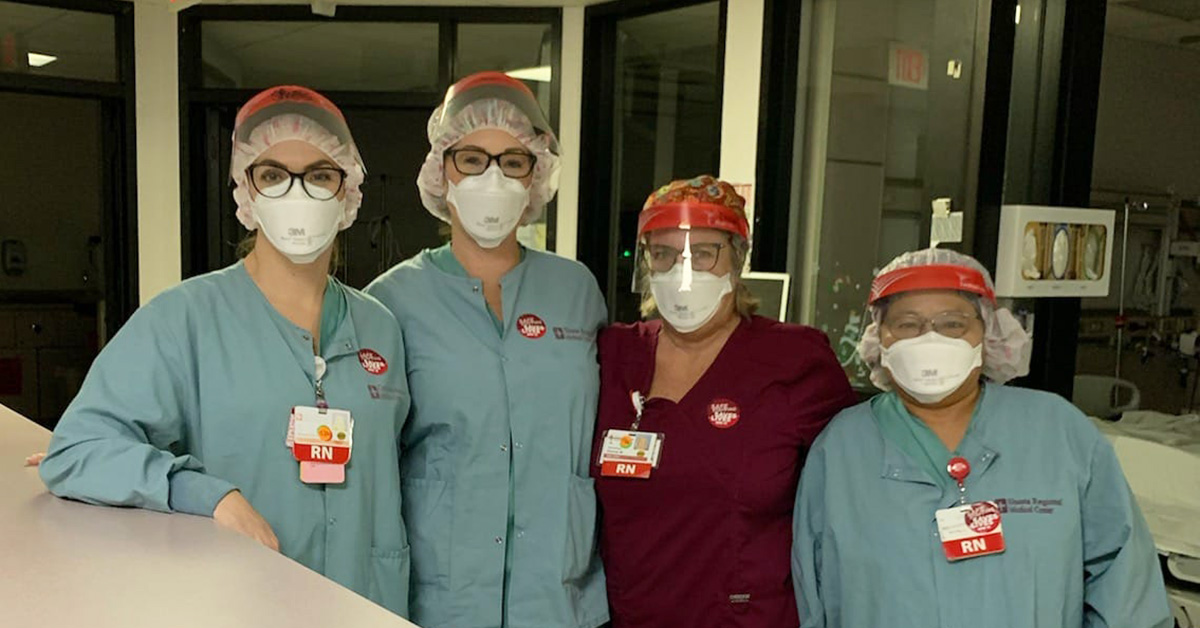 Registered nurses at Shasta Regional Medical Center in Redding, Calif. voted overwhelmingly this week in favor of ratifying their new three-year contract, winning protections to improve patient safety and nurse retention, announced  California Nurses Association (CNA), an affiliate of National Nurses United (NNU).
"It took more than a year to reach this deal, but we are so gratified to see how our solidarity paid off in order for us to get a fair contract that will benefit our entire community," said Michelle Gaffney, a registered nurse in the intensive care unit. "We know that a strong contract means better recruitment and retention of staff, which in turn allows us to provide the highest quality of care to each one of our patients in every unit and on every shift."
Highlights of the CNA contract include:
Protections against unsafe floating: Floating is a management practice where nurses are reassigned to units of the hospital where they do not normally work. The contract includes language that establishes floating procedures and prevents nurses from being assigned to units for which they have not established expertise or competency.
Education training reimbursement and bonus: Management has agreed to provide both reimbursement for training and bonuses to nurses who earn specialized certifications that further their nursing education. These certificates include enhanced training for nurses in all units. These incentives will allow nurses to continue their education and provide the highest level of care to their patients.
Economic gains to help retain and recruit experienced nurses: Average wage increases of 22 percent over the term of the agreement and improved economic benefits will help with recruitment and retention of experienced nurses.
Improved health benefit language: Management has agreed to make medical referrals in a timely manner for registered nurses and their dependents. In cases of emergency, referrals must be made within three days. In all other cases, referrals must be made within 10 days. This improvement will help in the retention of experienced nurses.
"We know that in order to provide the best care to our patients, we must be able to recruit and retain experienced nurses," said Theresa Sealander, a registered nurse who works in the neuro orthopedic unit. "Experienced nurses are critical in the growth and development of our newer nurses. We are so appreciative of the help we get from travelers and our new graduates, but we want nurses to stay at Shasta Regional. When nurses are committed to our hospital, they will fight to ensure that we have the resources we need to provide the highest quality of care."
CNA represents 220 nurses at Shasta Regional Medical Center.
---
The California Nurses Association/National Nurses United is the largest and fastest-growing union and professional association of registered nurses in the nation with 100,000 members in more than 200 facilities throughout California and more than 180,000 RNs nationwide.