Press Release
Sen. Bernie Sanders to Headline All Star Lineup at Big Gathering of Progressive Activists in Chicago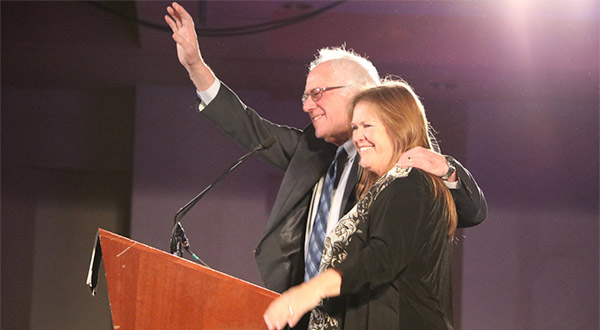 Beyond Resistance: A People's Movement for a Just World
Sen. Bernie Sanders will keynote a major gathering of several thousand progressive activists from across the U.S. in Chicago June 9 to 11 under a thematic of moving beyond resistance to a building a broad people's movement for a just world.
What: People's Summit "Beyond Resistance: A People's Movement for a Just World"
When: June 9 through June 11
Where: Chicago, McCormick Place
Submit media press credentials here.
Many of those in Chicago last June have played leading roles in public actions and protests this year, but the supporting organizations are unified in calling for defining a progressive vision that beyond resistance and protests.
Scheduled participants include:
Sen. Bernie Sanders
Jane Sanders, the Sanders Institute
Becky Bond, author/activist
Josh Fox, filmmaker
Danny Glover, actor/activist
Amy Goodman, host, Democracy Now
Jim Hightower, The Lowdown
Craig Hodges, author, former Chicago Bulls star
Rep. Pramila Jayapal, member of Congress
Ben Jealous, former NAACP President, Maryland Gubernatorial candidate
Van Jones, The Dream Corps, CNN commentator
Rep. Ro Khanna (CA), member of Congress
Naomi Klein, author
Bill McKibben, 350.org
Christine Pellegrino, New York Assembly member-elect
Rep. Mark Pocan, member of Congress
Carlos Ramirez Rosa, Alderman, City of Chicago
Joe Salazar, Colorado State Representative
Linda Sarsour, Arab-American Association
David Sirota, International Business Times
Zephry Teachout, Fordham University
Nina Turner, Our Revolution, former Ohio State Senator
Katrina vandenHeuvel, editor, The Nation
Keeanga Yamahtta-Taylor, author
Dave Zirin, Edge of Sports
(partial list)
This year's program will feature concrete steps for further progressive movement building, including candidate training, independent political action, civil disobedience, educational workshops, and unity in mass actions.
Another highlight will be "The People Speak" featuring an all-star lineup of actors and musicians celebrating the often neglected history of the United States.  Performers will include Joan Baez, Hong Chau, Jesse Eisenberg, Frances Fisher, Laura Gomez, Brian Jones, Melissa Leo, Aasif Mandvi, Susan Pourfar, Kendrick Sampson, and Wallace Shawn.
Convening organizations include National Nurses United, People's Action, United Students Against Sweatshops, People for Bernie, Our Revolution, United Electrical Workers, Color of Change, Progressive Democrats of America, and Democratic Socialists of America, and Million Hoodies.
More information, including how to register for the event, is available at the People's Summit website, http://www.thepeoplessummit.org/.