Press Release
Sen. Bernie Sanders to Address Major Nurses' Convention in San Francisco September 22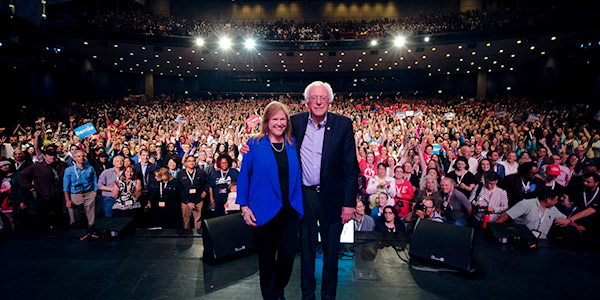 Other prominent speakers to include California Lt. Gov. Newsom, Jane Sanders, Nina Turner, and Van Jones at CNA Conference
Fresh off the introduction of S. 1804, the Medicare for All Act of 2017, co-sponsored by one-third of the Senate Democratic Caucus, Sen. Bernie Sanders will highlight the 2017 Convention of the California Nurses Association/National Nurses Organizing Committee Thursday, September 21 and Friday, September 22 in San Francisco.
Jane Sanders, California Lt. Gov. Gavin Newsom, and Our Revolution President Nina Turner, and commentator Van Jones will also address the convention.
What: CNA/NNOC/NNU Convention
When: Thursday, September 21-Friday, September 22
Where: San Francisco Marriott Marquis, 780 Mission St., San Francisco
Guest Speakers:
Thursday, September 21
Jane O'Meara Sanders, founder, fellow the Sanders Institute, in conversation with NNU and CNA Executive Director RoseAnn DeMoro Thursday, September 21, 9 a.m.
Eve Ensler, playwright/activist, performer, 7 p.m.
 Friday, September 22
California Lt. Governor Gavin Newsom, CNA endorsed candidate for California Governor in 2018, Friday, September 22, 9:30 a.m.
Sen. Bernie Sanders, one week after the introduction of his national Medicare for all legislation, will address nurse delegates Friday, September 22, 1 p.m.
Van Jones, commentator, co-founder Dream Corps, 6:45 p.m.
Nina Turner, president of Our Revolution, an organization founded by leaders and activists of Sanders 2016 Presidential campaign, 7:15 p.m.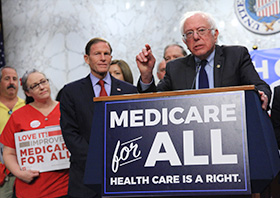 Sen. Bernie Sanders with, at left, CNA member Melissa Johnson-Camacho at press conference announcing introduction of S 1804, the Medicare for All Act of 2017
Sen. Sanders and Lt. Gov. Newsom, the former mayor of San Francisco, both have a long legislative record promoting Medicare for all type legislation, which has gained increasing public and legislative support across the U.S. It is a signature issue for CNA/NNOC and NNU.
About 1,000 people, including RNs from 27 states across the U.S. will be on hand for the CNA/NNOC convention, which begins with a reception Wednesday night, September 20 at the San Francisco Marriott Marquis in downtown San Francisco. A full day of convention programming is also scheduled Thursday, September 21.
CNA/NNOC, with over 100,000 members, is an affiliate of National Nurses United, the largest U.S. union and professional association of RNs with 150,000 members.
Convention delegates will discuss key issues facing RNs and allies. That will include reviewing ongoing efforts to challenge employer and rightwing attacks on unions and RN collective bargaining, patient advocacy and organizing rights, the fight for environmental and climate justice, and the Trump administration assaults on civil rights, civil liberties, and democracy.
Delegates will also consider resolutions on a variety of topics including securing nursing practice, patient protection and patient advocacy, defending our rights to collective action, Medicare for all, environmental and climate justice, immigration rights, and the national #PeoplesPlatform.