Press Release
Santa Monica nurses to hold an informational picket to demand safe patient care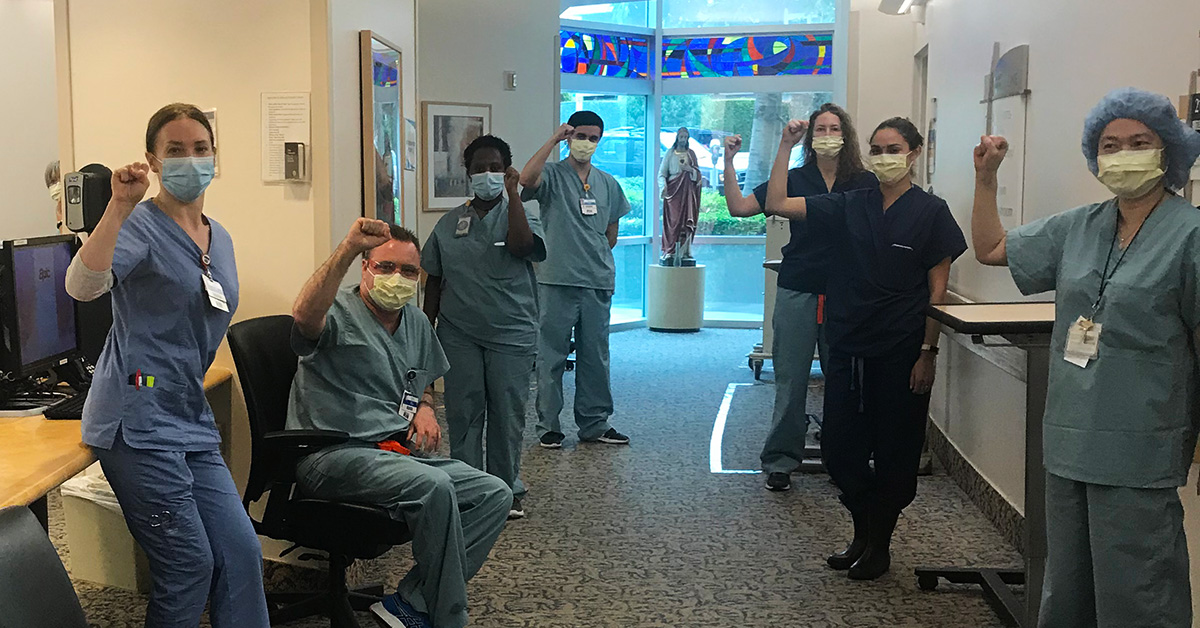 Registered nurses at Providence Saint John's Health Center in Santa Monica, Calif., will hold an informational picket on Monday, Aug. 1, to protest the administration's refusal to address chronic short staffing, which jeopardizes patient safety, announced California Nurses Association/National Nurses United (CNA/NNU).
The Saint John's nurses notified their employer on July 19 that they would hold an informational picket. The administration is violating the state's safe staffing law that mandates RN-to-patient ratios. The RNs demand that Providence invest in hiring and retaining staff RNs. Due to unsafe staffing and the lack of support from management, nurses are leaving. Most departments have lost more than 30 percent of their staff RNs in the last year, with some departments experiencing a turnover rate higher than 60 percent. Currently, there are more than 150 open staff RN positions at Saint John's. More than 125 temporary RNs are working at the facility.
On July 13, nurses met with the administration, including Saint John's chief nursing officer Giancarlo Lyle-Edrosolo, to demand that they address the staffing crisis immediately. However, he told them he would get back to the RNs in three to four weeks. "We told them our RNs are assigned too many patients, violating the safe staffing law," said Laura Bass, RN in the oncology department. "We can't take breaks, and some of us have worked 18 to 24 hours straight. We gave clear solutions. We need a response now."
Who:

Registered nurses at Providence Saint John's Health Center

What:

Informational picket for patient safety plus:

Art walk of unsafe staffing photos
Rally at noon with speakers

When:

Monday, Aug. 1, 11:30 a.m. to 1:30 p.m., rally at noon
Where: Providence Saint John's, 2121 Santa Monica Blvd., Santa Monica, CA 90404; on the sidewalk near the hospital's main entrance.
Providence Saint John's RNs have been in negotiations since May 2022 for a new contract with little to no movement on key staffing issues. RNs urge management to invest in nursing staff and agree to a strong contract that ensures safe staffing, dedicated break relief, and an end to the speedup of ER admissions. During the same week of the picket, the hospital is planning to speed up ER admissions.
"Nurses at Saint John's work tirelessly to keep patients safe as the hospital leaves us short staffed," said Michelle Benvenuti, RN in the progressive care cardiac unit. "Meanwhile, the hospital is implementing a ruthless throughput program that threatens safety with the goal of making more revenue by pushing patients in and out faster. The combination of this speedup and understaffing leaves nurses with the burden of providing care at the expense of patient safety and our own safety."
Due to management's deliberate understaffing of units, experienced nurses have no time to mentor and train new nurses. As a result, more than 30 percent of recent new hires at Saint John's have left within their first year.
"We have lost so many experienced RNs in some units that we have RNs with only one year of experience training brand new RNs or even running the department," said Liz Wade, RN in labor and delivery. "This is so unsafe because now, we have a knowledge gap. Nurses are afraid for their patients, their nursing licenses, and their jobs if they refuse the patient assignment. So, they train and leave."
"We called the picket because we are tired of working without breaks, tired of working extra shifts, and tired of being short on resources," said Phil Gavcus, RN in the emergency department. "RNs are tired because we are also taking on other people's jobs. We are also doing the jobs of the tech, the CNA, and the transportation and security staff. This isn't safe. If RNs aren't safe, patients aren't safe"
Saint John's RNs launched a Change.org petition in January 2022 and sent it to management on January 5, 2022. The petition now has more than 1,000 signatures.
"We are facing unsafe staffing every day, which is putting patients at risk," said Liz Wade, labor and delivery RN. "This is unacceptable, and this is why we are speaking out."
Nurses demand that Providence invest in nurses. Providence, a 52-hospital system based in Renton, Wash., reported system-wide revenue of $27.3 billion in 2021, and Providence's nonoperating income totaled $1.2 billion in 2021.
California Nurses Association represents more than 600 RNs at Providence Saint John's Health Center.
The California Nurses Association/National Nurses United is the largest and fastest-growing union and professional association of registered nurses in the nation with 100,000 members in more than 200 facilities throughout California and more than 175,000 RNs nationwide.