Press Release
Saint Louis Hospital Nurses Demand SSM Health Put Patient Care Over Profits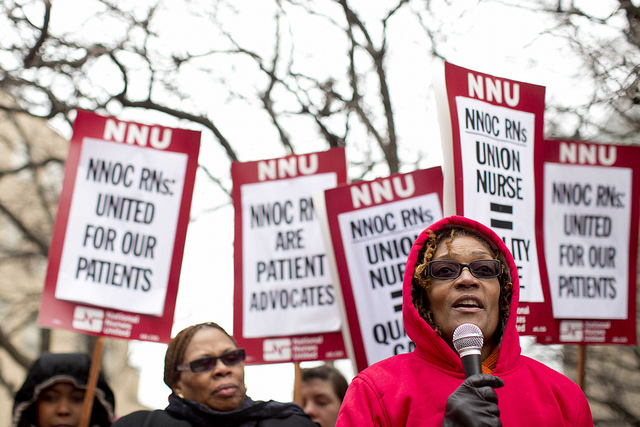 Nurses say short staffing, workplace violence, and high turnover puts patient care at risk and abandons the Catholic mission of the hospital.
Registered nurses from Saint Louis University Hospital (SLUH) will call on SSM Health to address the erosion of patient care at the hospital due to chronic short staffing, workplace violence, and high turnover, outside the SSM Health Foundation Gala tonight, National Nurses Organizing Committee/National Nurses United (NNOC/NNU) announced today.
"It is heartbreaking to see how our hospital is being used as a money-making machine at the expense of our patients, many of whom are marginalized and underserved," said Sarah DeWilde, a registered nurse in the trauma intensive care unit. "We want to make sure that those who are giving to SSM Health Foundation know that nearly 50 percent of the foundation's $2.8 million budget in 2017 went to salaries and administrative costs. The nurses are calling on these donors to join us to demand that SSM Health put patients over profits."
What: RNs Demand SSM Health Put Patient Care Over Profits
Where: Outside St. Louis Four Seasons Hotel
 999 N. 2nd Street, St. Louis, Mo.
When: Saturday, Oct. 19, 5:00 p.m.
The action comes as RNs overwhelmingly reaffirmed their affiliation with NNOC/NNU, despite SSM Health spending precious resources on management consulting fees designed to convince nurses to give up their right to union participation and undermine the nurses' collective voice to advocate for their patients.
Nurses and religious leaders say they are deeply concerned that SSM Health, a nonprofit Catholic health care system, is failing to live up to the ethical directives outlined by the U.S. Council of Bishops, which require the hospital to provide the highest quality of care to patients regardless of their income or insurance status.
"We believe there is a great dissonance between the theological values of a Catholic health care system and the conduct of SSM Health towards nurses, along with their lack of investment in patient care — contributing to St. Louis' longstanding health inequalities," said the Rev. Dr. Teresa Mithen Danieley of Missouri Jobs with Justice.
According to the data from the Centers for Medicare and Medicaid Services, the six SSM hospitals in the St. Louis metro region have seen their profits rise 133 percent since 2013, reaching more than $114 million last year. Despite these profits, SLUH nurses have documented the chronic understaffing throughout the hospital, including frequent incidents where nurses are caring for more than twice the number of recommended patients. This understaffing leads to delayed care and jeopardizes patient care. According to a ProPublica analysis, emergency room wait times at SLUH are more than eight hours, more than three hours longer than the Missouri average. Studies show that patients living in areas with higher concentrations of ethnic or racial minority populations, such as the communities surrounding SLUH, have higher rates of emergency room visits for nonurgent care needs.
"The wait times in our emergency room are very distressing for those who are sick, often scared, and seeking care," said Earline Shephard, an emergency room nurse. "We know many patients who seek care in our emergency room are very low-income people of color who are in desperate need of health care. The edicts from the Catholic Bishops state very clearly 'Catholic health care should distinguish itself by service to and advocacy for those people whose social condition puts them at the margins of our society.' Instead we are facing issues with a lack of designated services for behavioral health, which is exacerbated by short staffing and inadequate security, which puts our staff and patients at risk."