Press Release
Saint Joseph Hospital nurses to hold informational picket to protest unsafe staffing and missing pay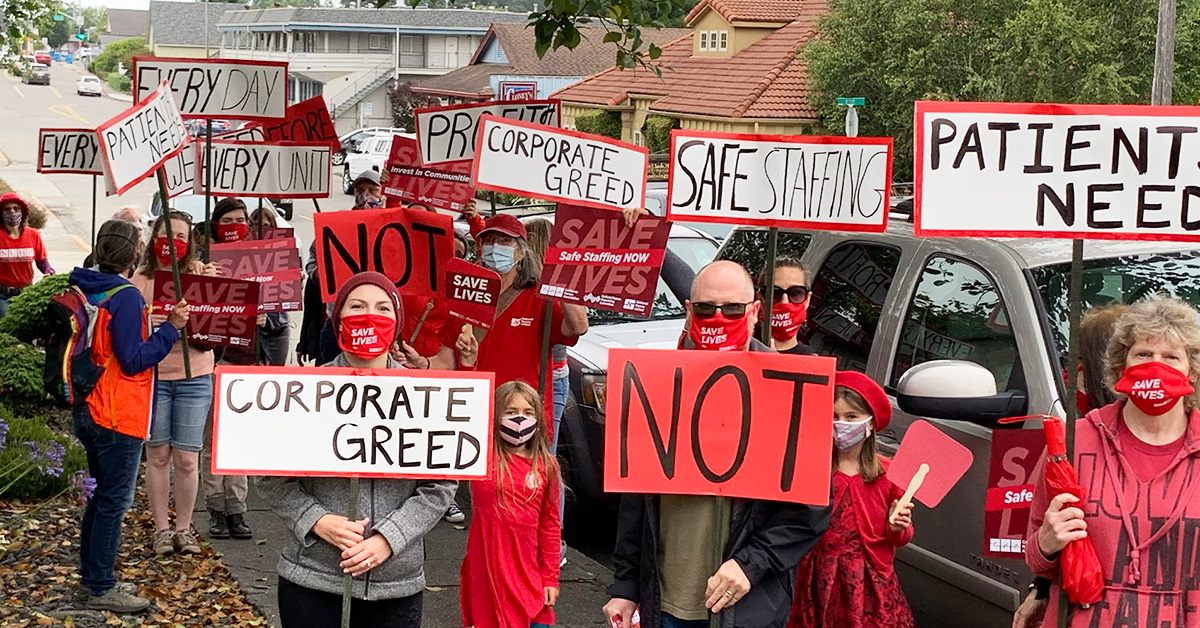 Registered nurses at Providence Saint Joseph Hospital in Eureka, Calif., will hold an informational picket on Aug. 11 to protest the administration's refusal to address RNs' deep concerns about chronic unsafe staffing and to demand that Providence correct ongoing payroll errors resulting in missing pay for hundreds of nurses, announced California Nurses Association/National Nurses United (CNA/NNU).
Nurses notified their employer on July 29, 2022, that they would hold an informational picket.
Saint Joseph nurses say Providence is violating California's safe staffing law, which mandates safe RN-to-patient staffing ratios. RNs are being assigned too many patients to care for and as a result, they cannot respond to patients' call lights in a timely way or take meal or rest breaks during their 12-hours shifts. Nurses are constantly pressured to take extra shifts. Twenty experienced nurses have left since January, which is a huge loss of knowledge and nursing experience. These RNs help train and mentor new nurses. Now some shifts are staffed with RNs with less than one year's experience.
Saint Joseph nurses have offered many recommendations to management, but Providence has not offered any immediate or long-term solutions to staffing, recruitment, and retention.
Who:

Registered nurses at St. Joseph Hospital Eureka

What:

Informational picket to protest unsafe staffing and missing pay

When:

Thursday, Aug. 11, 11:30 a.m. to 1:30 p.m.

Where:

St. Joseph Hospital, 2700 Dolbeer St., Eureka, CA (Corner of Harrison Ave. & St. Joseph Ln.)
In addition to the unsafe working conditions that jeopardize patient safety, nurses have been contending with egregious payroll errors since June 19, 2022, when Providence implemented a new payroll system, touted as an upgrade to the previous system. The errors are ongoing and include the most recent pay period, ending August 5. Hundreds of nurses have been affected by these errors, which include missing pay for shifts, incorrect pay rates, incorrect deductions, and errors in paid time off. Since the new time-keeping system was implemented, Providence has received more than 77,000 HR requests systemwide from employees.
RNs urge management to:
Invest in nursing staff by retaining and recruiting RNs
Stop violating the state's safe staffing law
Resolve ongoing unpaid wages and payroll errors
Communicate when the payroll errors will be corrected.
"After years of asking us to work through a pandemic with insufficient staffing and equipment shortages Providence has decided to reward their 'Heroes' with more short staffing, missed breaks, and unpaid wages," said Lesley Ester, RN in the Rehab unit at St. Joseph Hospital Eureka, "It is past time for Providence to step up and invest in nurses and correctly pay us for our work."
"Providence needs to retain and recruit nurses," said James Ladika, RN in the Float Pool unit at St. Joseph Hospital Eureka. "The payroll system 'upgrade' is the opposite of a recruitment and retention plan.
"Providence proves, once again, that their out-of-area leadership is unable to provide a standard of care in Humboldt that guarantees patient safety or shows concern for nurses' wellbeing," said Sallie McComas, RN in the progressive care unit. "Without any local control or leadership, it's not surprising they don't understand what our community needs."
California Nurses Association represents nearly 500 nurses at Providence Saint Joseph Hospital Eureka.
The California Nurses Association/National Nurses United is the largest and fastest-growing union and professional association of registered nurses in the nation with 100,000 members in more than 200 facilities throughout California and more than 175,000 RNs nationwide.