Press Release
Registered nurses at Ascension Saint Agnes Hospital in Baltimore vote to join National Nurses Organizing Committee/National Nurses United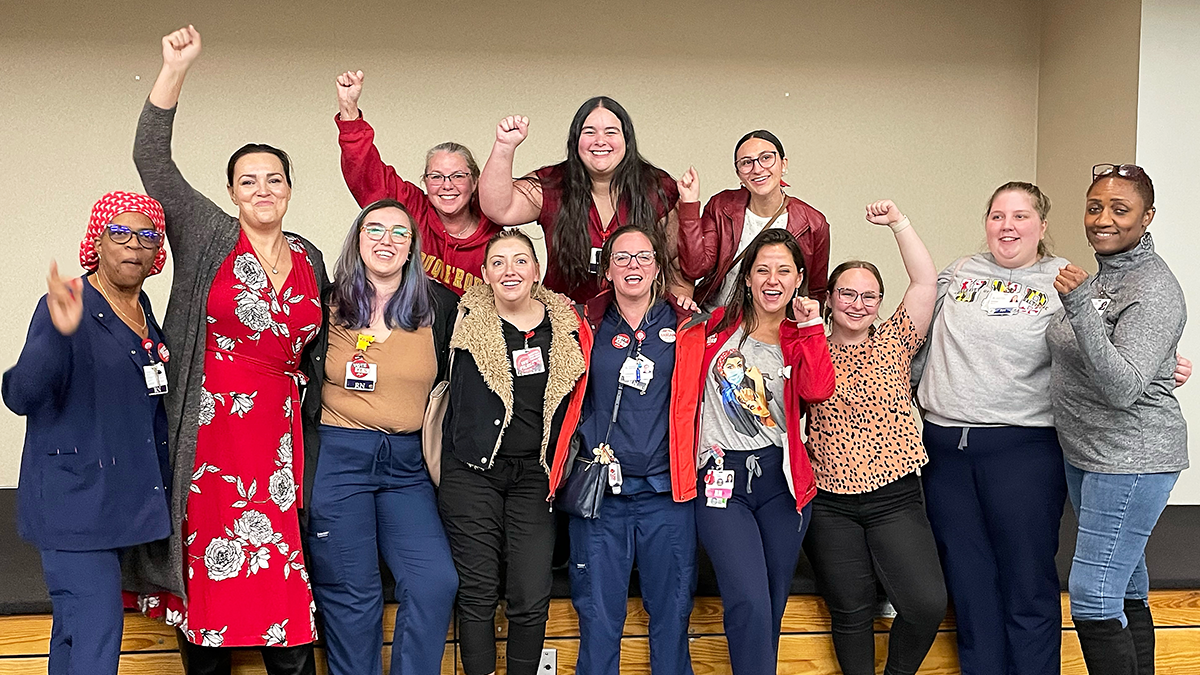 This victory marks a historic first union win for hospital RNs in Baltimore!
Registered nurses at Ascension Saint Agnes Hospital in Baltimore, Maryland voted, on Nov. 2 and Nov. 3, to join National Nurses Organizing Committee/National Nurses United (NNOC/NNU), the nation's largest and fastest-growing registered nurse union.
This victory marks the first time in Baltimore history that registered nurses have unionized a hospital and the fourth Ascension-owned hospital to organize with NNOC/NNU in the short span of 13 months, including successful union drives at Ascension Seton Medical Center in Austin, Tex., and Via Christi Ascension St. Francis and Via Christi St. Joseph in Wichita, Kan. This brings the total of NNOC/NNU RNs at Ascension hospitals to 2,500. 
"This victory is a big win for our patients and for all of Baltimore, and we achieved it despite the Ascension administration's relentless efforts to undermine our legal rights to form a union, which are currently under federal investigation," said Kimmy Rider, RN in the ICU at Saint Agnes. "We have seen NNOC/NNU nurses around the country win strong contracts that support significant improvements in patient care. As patient advocates, this is our goal — using our collective voice to win the conditions that we need as RNs to provide the quality care that our patients deserve." 
The union will represent more than 500 RNs at Saint Agnes. Ascension is one of the largest not-for-profit and Catholic hospital chains in the nation, with 143 hospitals and other health care facilities in 19 states. 
Nurses say they pursued union affiliation in response to management's refusal to address their concerns regarding patient care at the hospital, including the severe staffing crisis at Saint Agnes. As unionized nurses, they know they can more meaningfully participate in decision-making and win measures that will improve the recruitment and retention of RNs at the hospital.
"I am thrilled to welcome Saint Agnes nurses to NNOC/NNU on behalf of our over 225,000 members," said NNU President Jean Ross, RN. "Your tenacity and commitment are an inspiration to your union siblings across the nation, and we look forward to working with you to achieve quality care at your hospital and for all patients." 
"Nurses at Ascension Seton Medical Center in Austin, Tex., send our heartfelt congratulations to our union siblings at Saint Agnes," said Zetta Hackleman, RN in the PACU. "Your historic victory in Baltimore will reverberate throughout the country with the message that, as Ascension RNs, we are building the collective power we need to effectively advocate for our patients. As bedside nurses, we know what our patients need, and we will not compromise on the quality of their care."
Next, the nurses will elect a team to represent them in negotiations for a first contract with Ascension. To prepare for negotiations, they will survey Saint Agnes RNs about the key issues to bring to the bargaining table.
---
National Nurses Organizing Committee is an affiliate of National Nurses United, the largest and fastest-growing union and professional association of registered nurses in the United States with nearly 225,000 members nationwide.