Press Release
RNs at Methodist Hospital of Southern California Vote to Join California Nurses Association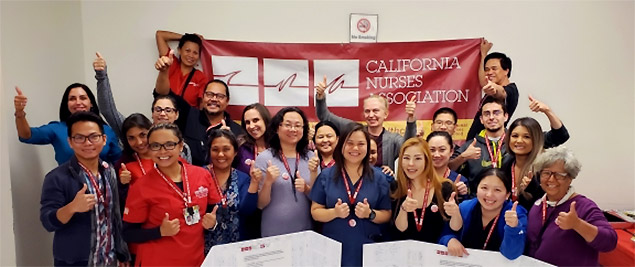 Registered nurses at Methodist Hospital of Southern California in Arcadia, CA voted overwhelmingly on Tuesday to join the state's largest RN union, the California Nurses Association/National Nurses United (CNA/NNU). This vote represents the largest number of non-union nurses in Southern California to join a union in at least five years.
"This overwhelming vote sends a strong, unmistakable message to non-union RNS, across Southern California and throughout the nation. In this challenging climate with so many nurses enduring a challenge from emboldened employers to their ability to provide safe care for their patients, and achieve economic security or themselves and their families, it is a collective union voice with CNA and NNU, that offers that protection," said Bonnie Castillo, executive director of CNA and NNU. "Our achievement for nurses and patients is a powerful calling card that is reverberating from coast to coast."
"This is a great day for the nurses as we will now have a real voice in making decisions on how we care for our patients," said Shelly Perks, a registered nurse on the intensive care unit. "Often management has implemented policies without our input, even though these decisions too often impact patient care adversely. Finally, our voices will be heard."
"We are so proud to welcome these 650 Methodist Hospital registered nurses to the California Nurses Association," said Malinda Markowitz, RN and co-president of CNA/NNU. "We know that advocating for patient care is one of the core functions of nursing, and we know with union protections nurses feel safer speaking out on behalf of their patients. We know that joining CNA will benefit your colleagues, your patients and your community."
Key issues for the RNs in voting to join CNA were the desire for a stronger collective voice on patient care issues, especially in improving safe staffing based on the state's minimum nurse to patient ratios law and the severity of illness of individual patients.
The nurses are also seeking an end to unsafe assignment of RNs to clinical areas for which they do not have clinical expertise or experience (being forced to 'float' without proper training), an end to missing meals and breaks which can leave nurses dangerously fatigued, and to ensure RNs receive competitive pay and benefits with other CNA-represented hospitals in order to retain and recruit experienced RNs.
The California Nurses Association has 100,000 members throughout the state. CNA is affiliated with National Nurses United, the largest and fastest growing union of registered nurses in the US with more than 150,000 members nationwide.
CNA/NNU plays a leadership role in safeguarding the health and safety of RNs and their patients and has won landmark legislation in the areas of staffing, safe patient handling, infectious disease and workplace violence prevention.