Press Release
RNs to hold a virtual press conference as they vow to fight hospital chain Alecto's announced closure of Olympia Medical Center in Los Angeles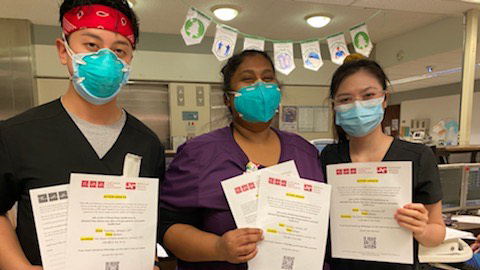 Closure announcement comes as the county faces zero ICU bed capacity
Registered nurses at Olympia Medical Center (OMC) will hold a press conference to alert the public to their fight against Alecto Healthcare Services' intention to close their hospital as Los Angeles health care workers struggle to provide patient care and health officials report zero ICU capacity in the county, announced California Nurses Association (CNA).
"It is simply unconscionable and incomprehensible that Alecto would seek to close the doors of our hospital in the middle of an unprecedented time of medical need," said Marvia Miller, a registered nurse. "Alecto is abandoning our community, some of whom are the most vulnerable patients in Los Angeles. As nurses, we are determined to fight for our patients and fight against this proposed closure.
What: Virtual Press Conference with RNs from Olympia Medical Center
When: Tuesday Jan. 19 @ 4 p.m. PST
The 200 nurses who work at OMC are encouraged by a request made by the Los Angeles County's Emergency Medical Services agency to the hospital's operators to delay the hospital closure "for a minimum of six months."
In calling for a delay of the shutdown, LA County EMS Director Cathy Chidester wrote in a Jan. 11 letter that "the voluntary closure of OMC during this crisis is irresponsible and will cause further hardship on the healthcare system."
Chidester also noted that the hospital is required under state law to participate in a public hearing "to allow the surrounding community and those individuals potentially impacted, to express their opinions or concerns regarding an impending hospital closure."
CNA is urging UCLA Health, which has publicly announced it has purchased the Olympia property from Alecto Healthcare Services, to commit to maintaining OMC as a full-service acute care hospital with no suspension of services at least for the duration of the deadly Covid-19 pandemic.
California Assembly member Richard Bloom, whose district includes OMC, expressed his concerns in a letter sent Jan. 11 to California Health and Human Services Director Dr. Mark Ghaly, noting that closure would "place even more pressure on surrounding facilities."
OMC recorded more than 25,000 emergency room visits in 2019 and serves a vulnerable population. According to Medicare cost reports covering the first half of 2020, about 60 percent of OMC's admitted patients were covered by Medicare, and almost 30 percent covered by Medi-Cal. Some 40 percent of admitted patients were Black, and some 63 percent of patients were over the age of 60.
Anderson notes that Alecto Healthcare Services is seeking to close the hospital even after it received more than $27.6 million in combined Covid stimulus money and advance Medicare payments in 2020.
"Our community is suffering immensely from Covid," said Miller. "This is not the time to shutter a 200-bed hospital, this is exactly when we need our hospitals to commit to caring for patients and making sure everyone has a fair chance of making it out of this pandemic alive."