Press Release
RNs at Florida Medical Center and Palmetto General Hospital Approve New Contracts
New Pacts Improve Protections for Patients and Nurses
Registered Nurses at two South Florida hospitals, Florida Medical Center in Fort Lauderdale and Palmetto General Hospital in Hialeah, voted by a wide margin to approve new contracts ensuring vital patient care and nursing practice protections, National Nurses United announced today.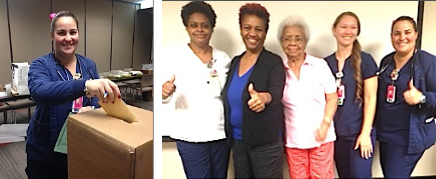 "A safe hospital for nurses is a safe hospital for patients," said Rose Campbell, RN, Palmetto General Hospital. "The new contract gives us new tools to make sure our hospital remains among the safest places to work in this area."
"We've set a new bar for recruitment and retention in South Florida hospitals," said Mary Lin Montalvo, RN, Florida Medical Center. "By guaranteeing salaries for nurses based on experience, we can keep nurses at the bedside at our hospital and continue to provide the quality of care our patients deserve."
The pacts cover 320 RNs at FMC and 620 RNs at PGH, all members of the National Nurses Organizing Committee, NNOC/FL, affiliated with National Nurses United. The national hospital chain, Tenet Healthcare, owns both hospitals.
Highlights of the new contracts include:
Economic gains to help with nurse recruitment and retention including new minimum rates based on nurses' years of experience. Through a combination of annual raises and increased experience, nurses' raises will average 13 percent over the life of the contract. More than one hundred nurses will see an initial increase, retroactive to April 1 of this year, of greater than eight percent.
New language to protect nurses from workplace violence, prevent lifting injuries and address infectious disease.
Maintenance of retirement, health and dental plan coverage.
Expansion of the Professional Practice Committee in which RNs meet with management to address patient care and working conditions, including staffing, standards, training, and workplace injuries.