Press Release
RNs to Deploy to Tucson, Arizona to Provide Care to Migrants and Asylum Seekers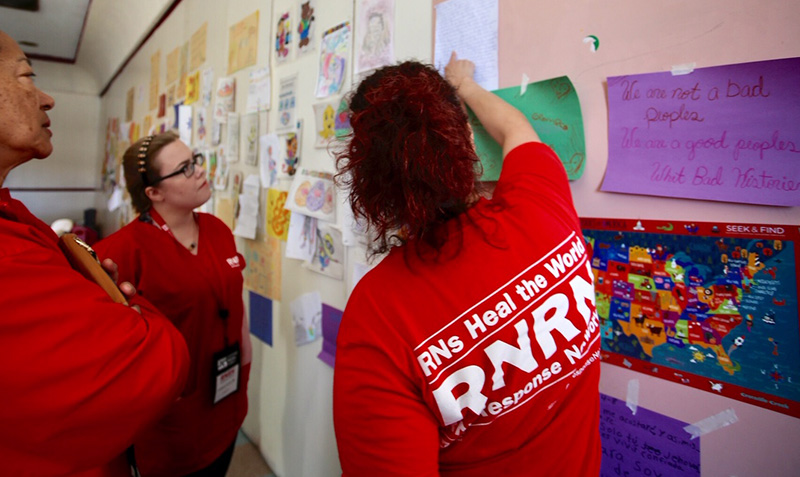 RNs to Deploy to Tucson, Arizona to Provide Care to Migrants and Asylum Seekers
The Registered Nurse Response Network (RNRN), a disaster-relief project of the California Nurses Foundation and National Nurses United, is sending a team of volunteer nurses to Tucson, Arizona, Feb. 22 through Feb. 24, to assist in providing basic medical support to migrants and asylum seekers. National Nurses United (NNU) is concerned that many of these migrant families need medical care after their long and arduous journey and detention in federal facilities that have come under intense scrutiny following the deaths of two children.  
 
In December, the deaths of an 8-year-old boy and a 7-year-old girl, both migrant children who were in U.S. custody, prompted NNU to condemn the presidential administration policies that failed to provide humanitarian assistance to those seeking asylum from violence in their home countries.
 
"It is really important to me that migrants are well cared for when they come here and that their health care needs are met," said Sandy Reding, a registered nurse and vice president of National Nurses United and a member of the California Nurses Association Board of Directors. Reding has deployed with RNRN following Hurricane Katrina in 2005 and to Texas following Hurricane Harvey in 2017. "I think what we have to recognize is the crisis on the border is a humanitarian one, not one that can be fixed with a wall, but rather one that must be addressed by treating migrants and asylum seekers with compassion."
 
Maria Rojas, RN, said that working with RNRN helps her fulfill her desire to help others who are less fortunate. She said that desire grew out of her childhood growing up on a cattle ranch near the border in south Texas.
 
"We would see migrants come walking through our bushes, and my dad would take them to the barn and my mom would fix them something to eat and we would have to doctor up their feet, as they were really chewed up after making the long journey often in only open-toed sandals," said Rojas, whose parents grew up as migrant workers. "We would give them clothes and do what we could to help. For us, it was always about helping those who didn't have. Even if we didn't have a lot, we had more than they did."
 
RNRN will be working at a shelter operated by Catholic Community Services of Southern Arizona, which has cared for over 2,000 migrants since October 2018.
 
RNRN volunteer nurses have cared for thousands of patients during disaster relief and humanitarian assistance deployments that include the South Asian tsunami (2004); Hurricanes Katrina and Rita (2005); the Haiti earthquake (2010); Hurricane Sandy (2012); Super Typhoon Haiyan/Yolanda (2013); Hurricanes Harvey and Maria (2017); Vulcan de Fuego Relief in Guatemala and Hurricane Michael (2018); and the Continuing Promise 2010 and 2015 humanitarian missions with the Department of Defense. RNRN volunteers have also provided first aid and basic response services for hundreds of community events across the country, as well as rotating teams who assisted the water protectors in Standing Rock in 2016.
RNRN is powered by CNF and NNU, the largest organization of registered nurses in the United States.