Press Release
RNs at Community Health Systems Hospital Set Three-Day Strike August 14-16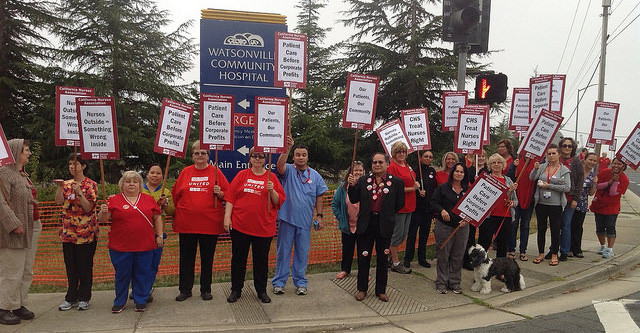 Local Hospital Part of Largest U.S. Hospital Chain With Long Record of Sanctions for
Violation of Labor Law Rights, Other Abuses

Registered nurses at Watsonville Community Hospital in Watsonville, Ca. will hold a three strike beginning today, August 14 in the latest protest against demands by hospital executives for sharp reductions in health coverage, and the hospital's refusal to address concerns about patient care conditions, especially safe staffing. Nurses will speak out at a rally on thursday at noon in front of the hospital.
 
The strike is scheduled to begin at 7:00 a.m. this morning when RNs will start their picket line, and end Sunday at at 6:59 a.m.

RNs will have a patient protection task force available at Sutter Tracy to assist in the event of a genuine patient care emergency inside the hospital. Sutter Tracy received 10 days advance notice from CNA to postpone elective surgeries, transfer out any patients as needed, and make other preparations.

"We raise serious concerns about safe staffing and clinical practices but we receive no serious response.  We are talking about patients' lives," said Roseann Farris, a critical care RN at Watsonville. "We need to take this action in order for the hospital to take our concerns seriously."

Nurses say relations with local hospital officials have been aggravated by a hard line pushed by corporate executives at Tennessee-based Community Health Systems which now operates the former locally owned and operated hospital in Watsonville. It will be the second strike by Watsonville RNs since last December.
 
CHS, the largest for-profit hospital chain in the U.S. with 206 hospitals in 29 states, has a long record being sanctioned by federal courts and the federal National Labor Relations Board around the country for violations of labor law and infringements on the rights of RNs.

In the Watsonville strike, the RNs will protest the hospital's stance in stifling the voice of the RNs in patient care and safe staffing issues. Hospital negotiators have refused to consider RN proposals for fair resolution of unresolved staffing, patient care, and other nursing practice issues and patient care proposals by the RNs.

What:   Rally on first day of 3-day strike
When:  Today, Thursday, August 14 - Picketing begins at 7 am - Rally at 12 noon
Where: Watsonville Community Hospital
              75 Nielsen St. Watsonville
              (corner, Nielson St. and Airport Blvd.)
 
"CHS has repeatedly demonstrated an unwarranted hostility toward nurses, particularly those who seek a collective voice to advocate improved care for their patients and their own standards. They have become one of the worst actors in the healthcare industry," says Deborah Burger, RN, co-president of National Nurses United whose affiliates represent many CHS hospitals.
 
Federal courts and National Labor Relations Board have repeatedly found unlawful conduct by CHS at hospitals in Ohio and California. The NLRB in Washington recently found that a CHS hospital in West Virginia unlawfully disciplined a union supporter. The NLRB has also issued multiple complaints against two CHS West Virginia hospitals for violations of labor law, and additional charges are under investigation.
 
Since January 1, 2013 alone, one quarter of all federal court injunctions sought by the NLRB have been have been issued against CHS hospitals in California and Ohio.

On August 4, CHS agreed to pay $98 million to settle multiple lawsuits alleging the company fraudulently billed government healthcare programs on patient care services.   
 
Multiple federal agencies have been scrutinizing CHS violations. "Health care providers should make treatment decisions based on patients' medical needs, not profit margins," said U.S. Attorney Anne M. Tompkins for the Western District of North Carolina in the settlement statement issued by the U.S. Department of Justice.  "We will not allow this type of misconduct to compromise the integrity of our health care system."
 
Patient advocacy groups have also criticized CHS for its aggressive collection practices for patients who have been unable to pay the cost of CHS's high hospital costs. In data on hospital charges released in January, NNU reported that six of the nine most expensive hospitals in the U.S. are a part of CHS or another chain CHS acquired this year. Some of those hospitals set their charges at more than 10 times their costs.
 
In a letter to the Securities and Exchange Commission in May, NNU called on the SEC to crack down on CHS for failure to disclose multiple problems in operations of its hospital empire including whether CHS has complied with federal law in fully disclosing "financial and operational risks to shareholders and potential investors."
 
NNU also charged that CHS has consciously and deliberately misled investors by reporting it has "good" labor relations when in reality CHS "labor relations at CHS may be worse than at any other healthcare system in the United States."  
 
Over the past five years, CHS reported over $1.5 billion in profits to the Securities and Exchange Commission. CHS CEO Wayne Smith piled up $21.5 million in total compensation in 2011, according to the AFL-CIO Executive Pay Watch project.