Press Release
RNs at City of Hope in Duarte, California Vote Overwhelmingly to Ratify New Contract with Strong Patient Care Gains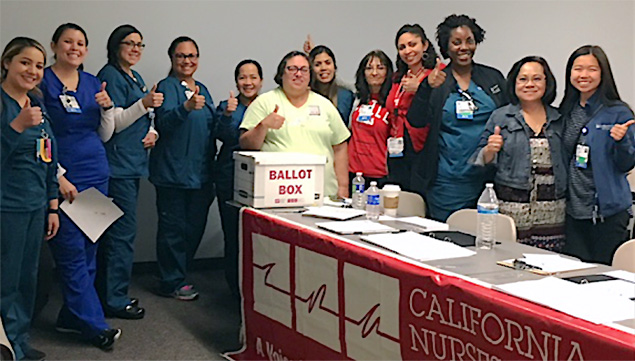 Registered nurses who work at the City of Hope National Medical Center in Duarte, Ca. near Los Angeles voted by a wide margin to ratify a new three-year contract Tuesday that they say will strengthen their ability to protect patients, and improve the hospital's recruitment and retention of experienced RNs.
The California Nurses Association/National Nurses United represents some 1200 RNs at City of Hope.
"It is absolutely essential that our hospital be able to recruit and retain great staff so we can provide optimal care for our patients. We're celebrating the new pact because it puts our hospital in a strong position to do just that," said Alma Torrez, RN.
"Nurses worked together to make sure our hospital would be a great place for nurses to work and for patients to get well. We are very proud of what we accomplished for our profession and for the patients that City of Hope serves throughout Southern California and the world," said Cassie Shukla, RN.
The new contract includes economic gains that will help with nurse recruitment and retention, including minimum across the board wage increases of 16.5 percent over the three- year term of the contract, and other wage adjustments to rectify existing inequities in the current wage scale and bring nurse wages closer in parity to similar hospitals in the region. 
Under the new pact the hospital has also agreed to establish a float pool that will be used to provide essential relief nurses to assist with staffing so that RNs receive meal and rest breaks.
The California Nurses Association has 100,000 members statewide and is affiliated with National Nurses United, the largest and fastest growing union of RNs in the nation. CNA/NNU has won landmark health and safety protections for nurses and patients in the areas of staffing, safe patient handling, infectious disease and workplace violence protection.