Press Release
RNs Applaud Signing of Hospital Inspection Bill that Protects Patients, Nurses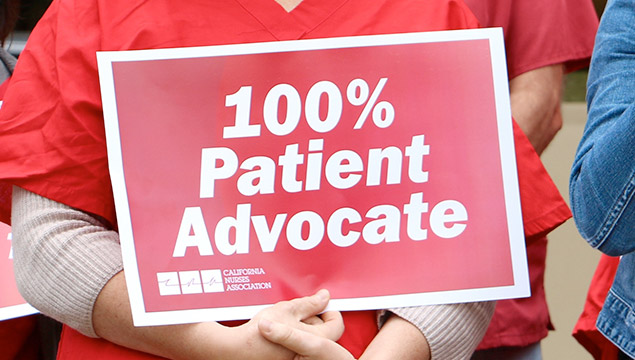 The California Nurses Association today applaud the decision by California Gov. Gavin Newsom to sign an important hospital inspection bill to protect the ability of registered nurses and other health care employees to speak privately with a state hospital inspector during an inspection by the California Department of Public Health (CDPH). 
S.B. 322, introduced by Sen. Steven Bradford and sponsored by CNA, adds language similar to existing rights under the Labor Code. Currently, under California Labor Code Section 6314, registered nurses are allowed to speak privately with inspectors from the California Division of Occupational Safety and Health Administration (Cal/OSHA) about health and safety violations or concerns.
With the passage of S.B. 322, health care workers can speak freely and privately to CDPH hospital inspectors without the presence of hospital management. 
"Registered nurses have a responsibility to advocate for their patients and to ensure they get the best care possible," said CNA President Zenei Cortez. "This critical law allows nurses to be effective advocates for patients and speak freely about conditions in hospitals and facilities."
The California Nurses Association has 100,000 members and is affiliated with National Nurses United, the largest and fastest-growing union and professional association of registered nurses in the United States with more than 150,000 members nationwide.  CNA/NNU plays a leadership role in safeguarding the health and safety of RNs and their patients and has won landmark legislation in the areas of staffing, safe patient handling, infectious disease, and workplace violence prevention.