Press Release
RNs From 20 States to Press Legislators on Nurses' Week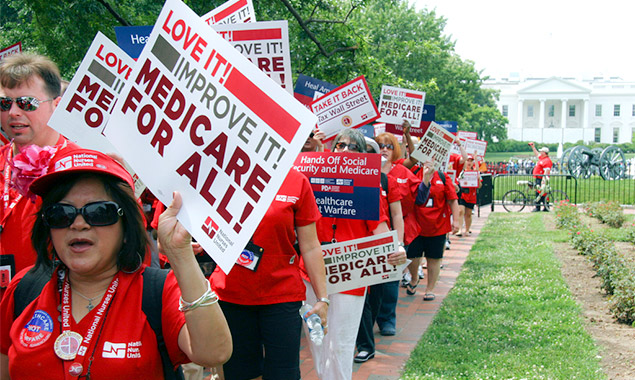 Nurses to Gather in Washington, DC May 8 for Patient Protection, Medicare for All Federal Legislation
In commemoration of National Nurses' Week, some 150 RNs from 105 Congressional districts in 20 states plus the District of Columbia will gather in Washington, DC Tuesday, May 8 to press legislators key federal legislative priorities to guarantee healthcare for all Americans, and strengthen protections for patients, their families, and hospital workers.
In addition to visiting House and Senate members in their legislative offices, the nurses will hear from key legislators, including Representatives Keith Ellison (D-MI), Ro Khanna (D-CA) and Pramila Jayapal (D-WA) in a noon event at St. Mark's Episcopal Church.
What: NNU RNs from 20 States Gather in Washington on Legislation - Presentations by Key Congress members
When: Tuesday, May 8, 12:15 p.m.
Where: St. Mark's Episcopal Church, 301 A St. SE, Washington, DC
Before the event at St. Mark's, the RNs will pay visits to House member's offices. After the event, the RNs will return to Capitol Hill for visits to Senate offices.
The nurses are members of National Nurses United, the largest union of registered nurses in the country. They will be emphasizing to legislators enactment of legislation to implement an improved and expanded Medicare for All single payer system, minimum nurse-to-patient ratios in acute care hospitals, as well as a new OSHA standard to protect nurses and other healthcare workers from violence on the job.
Ellison is the lead sponsor of HR 676, the House Medicare for all bill. Khanna is the author of the NNU-sponsored Health Care Workplace Violence Prevention Act, HR 5223, that would require health care facilities to develop and implement comprehensive facility and unit-specific workplace violence prevention plans.
National Nurses' Week is marked each year memorializing the anniversary of the birth of Florence Nightingale. NNU represents 150,000 RNs from coast to coast.