Press Release
RNRN Volunteers Deploy to the Border Nurse Volunteers Provide Critical Medical Aid to Migrants and Asylum Seekers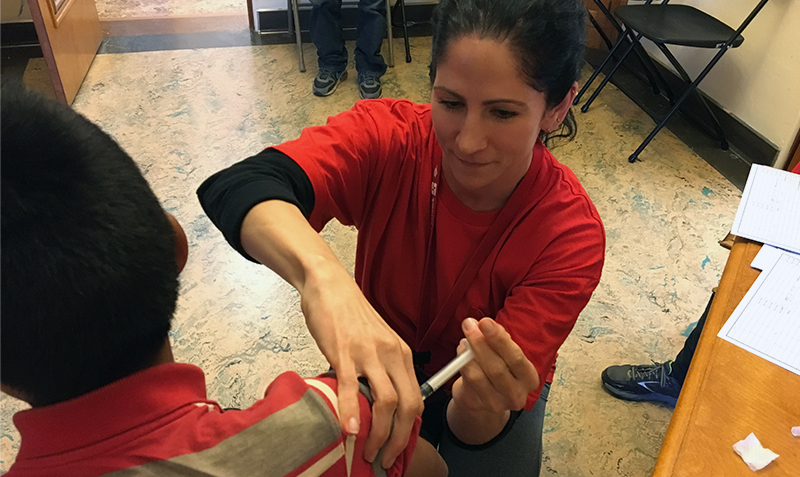 Nurse volunteers from the Registered Nurse Response Network (RNRN)— a disaster-relief project of the California Nurses Foundation (CNF) and National Nurses United (NNU)—are answering the call again this weekend, providing medical care for migrants and asylum seekers. RNRN/NNU has been sending teams of volunteer nurses to the Tucson area since February.
Nurses will be available for interview in Tucson from March 29 through March 31.
Cathy Kennedy, a vice president of NNNU and registered nurse in Sacramento, said it is extremely important for RNRN to help migrants families who are fleeing extreme poverty, widespread violence, and political repression, conditions that were brought on in part because of U.S. policies.
"As a nation of immigrants, we want to be sure that those who come to our country seeking asylum are treated with compassion, that their human dignity is respected, and that they receive the medical care they need," said Kennedy. "National Nurses United believes so strongly that health care is a human right that we are volunteering to help meet the urgent medical needs at the border, even as our government chooses to criminalize those in desperate situations."
"Everyone deserves health care, regardless of where they come from or what their story is," said Kate Nelson, a registered nurse from New Mexico who is heading to Tuscon for a second RNRN deployment. "I come from a place that has a dynamic mix of people from many backgrounds. Our community is made stronger and more dynamic with their presence. Health care should be a right, not a privilege, and we all have a responsibility to do what we can to make sure everyone in our communities has access to care."
Nurses returning from past deployments have expressed great concern about the harsh and unhealthy conditions many migrants are facing in federal detention, conditions that have led to the deteriorated medical states of some migrants.
Migrants and asylum seekers have shared with nurses on deployment in Tucson, that they are often housed in fenced cages with concrete floors, in very cold temperatures without adequate bedding or clothing for warmth. Nurses from previous RNRN deployments said that they have heard repeated stories of medications being confiscated or denied to those in custody, including medications for young children with serious conditions, such as asthma inhalers and anti-seizure medications.
In addition, the nurses are distressed by migrants' reports that they are being held for days without access to adequate food, clean water, or given an opportunity to bathe. They note that migrants nearly always arrive at the shelter very hungry, and suffering from dehydration.
Mary Jane Shanklin, a registered nurse from Kansas, said she feels privileged to provide assistance to those in need. "This deployment will help me as much as the asylum seekers. If my nursing experience and skills can assist in making their lives any better, it will be so uplifting. RNs have the direct patient care assessment and observational skills needed for this delicate job. We also have the heart for it."
RNRN volunteer nurses have cared for thousands of patients during disaster relief and humanitarian assistance deployments that include the South Asian tsunami (2004); Hurricanes Katrina and Rita (2005); the Haiti earthquake (2010); Hurricane Sandy (2012); Super Typhoon Haiyan/Yolanda (2013); Hurricanes Harvey and Maria (2017); Vulcan de Fuego Relief in Guatemala (2018), Hurricane Michael (2018); the Camp Fire in Butte County, Calif. (2018); and the Continuing Promise 2010 and 2015 humanitarian missions with the Department of Defense. RNRN volunteers have also provided first aid and basic response services to hundreds of community events across the country, as well as rotating teams who assisted the water protectors in Standing Rock in 2016.
RNRN is powered by CNF and NNU, the largest union and professional organization of registered nurses in the United States with more than 150,000 members.