Press Release
RNRN Launches Fundraising Drive for Healthcare Workers in Ebola-Stricken Nations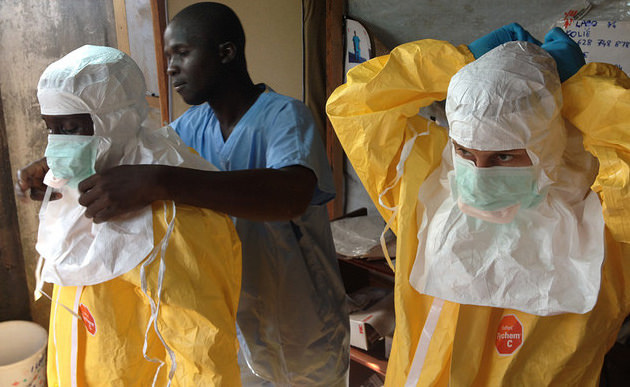 //
Survey of U.S. nurses also underway to evaluate preparedness of nation's hospitals 
The Registered Nurse Response Network (RNRN), a project of National Nurses United (NNU), the nation's largest professional organization of RNs, has initiated a national fundraising campaign to provide desperately needed personal protective equipment for frontline healthcare workers caring for patients stricken by the Ebola virus.
Ebola viruses are transmitted through direct contact with blood or bodily fluids of an infected person, or through exposure to needles that have been contaminated with infected blood or bodily fluids. Healthcare workers must exercise extreme caution and follow Centers for Disease Control (CDC) guidelines to ensure protection from the virus.
Many of the nurses and healthcare providers working in the affected countries who are risking their lives to take care of their patients lack basic protective gear. RNRN, in conjunction with key groups working on the ground, primarily the International Medical Corps, is working for the procurement and training of personal protective equipment. The cost of a full set of personal protective equipment is approximately $350.
The Ebola outbreak has now killed at least 1,552 people in West Africa and is spiraling out of control, with international healthcare providers saying that they are not able to handle the crisis. The World Health Organization (WHO) has warned that the number of Ebola cases could rise to 20,000. The number of diagnosed cases is widely believed to be underreported.
Health workers have been hit particularly hard in this outbreak. As of last week, more than 240 health workers have been infected and more than 120 have died.  Nurses are on strike to protest the lack of adequate protective equipment at one large hospital in Liberia where, to date, almost 700 people have died.
RNRN can receive tax-deductible donations. To donate, click here.
NNU Calls for Adherence to Highest Standard of Safety for Public and Healthcare Workers in U.S. Hospitals and Initiates Survey of RNs Nationwide
RNRN issued a nationwide call to government agencies to affirm that all U.S. hospitals adhere to the Centers for Disease Control guidelines to protect healthcare personnel, patients, and the public after a suspected Ebola case in the nation appeared in a Sacramento, Calif. facility several weeks ago.
CDC Director Dr. Thomas Frieden recently said that an outbreak of Ebola in the U.S. is unlikely, but that hospitals could see isolated cases of returning travelers who exhibit symptoms associated with the disease.
California RNs note the untimely death of RN Karen Ann Hayes from Carmichael, Calif. in 2009 from exposure to the H1N1 virus as one of many reasons for their concern about the ability of their hospitals to safely manage patients infected by the Ebola virus. 
"This potential exposure of patients and health workers illustrates the critical need for planning, preparedness, and protection at the highest level in hospitals throughout the nation," said Bonnie Castillo, RN and director of RNRN.
The CDC has investigated 68 potential cases of Ebola in 29 states, and all but two cases have been ruled out as Ebola. The remaining two cases have results pending. 
RNRN sent out a survey to nurses in hospitals throughout the nation earlier this week to evaluate the safety standards in their facilities and to determine next steps to ensure the safest environment for patients, healthcare workers, and the public. Questions include availability of specialized personal protective equipment, adequate numbers of prepared isolation rooms, training and education policies on handling of patients with the virus, and adjusted safe staffing for RNs assigned to isolation patients.   
"We are hearing reports from nurses that they don't feel safe at their hospitals. Nurses are concerned that the CDC guidelines are not being followed," said RoseAnn DeMoro, executive director of National Nurses United. "These reports are another example of the inadequacies of our current healthcare system, where profit is more important than safe patient care."
NNU, the sponsor of RNRN, says that the rapid spread of the Ebola virus is a reminder of the need for global action on some of the underlying human factors contributing to the epidemic, including climate crisis-accelerated deforestation, drought, and food shortages, and shortsighted economic policies that have prompted cuts in public health services.
 About RNRN
The Registered Nurse Response Network (RNRN) is a project of the California Nurses Foundation (CNF)*, working in cooperation with National Nurses United (NNU), the 185,000-member national nurses union. RNRN works to send nurses to disaster-stricken areas both inside the U.S. and internationally.
RNRN was formed in 2006, after responding to the South Asia tsunami (2004) and Hurricanes Katrina and Rita (2005), when the need for nurses was not being met by traditional disaster relief organizations.  Since that time, RNRN has deployed direct-care nurse volunteers to numerous disasters, including the massive earthquake in Haiti and Super Typhoon Haiyan/Yolanda. 
Ebola Virus Fact Sheets
CDC: http://www.cdc.gov/vhf/ebola/resources/pdfs/ebola-factsheet.pdf

WHO: http://www.who.int/mediacentre/factsheets/fs103/en/