Press Release
RN Volunteers Return to Tucson to Provide Critical Medical Aid to Migrants and Asylum Seekers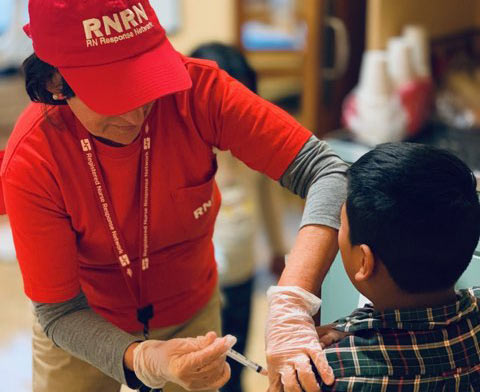 Nurse volunteers from the Registered Nurse Response Network (RNRN)—a disaster-relief project of the California Nurses Foundation (CNF) and National Nurses United (NNU)—are back on the ground this weekend in Tucson to provide medical care for migrants and asylum seekers. RNRN/NNU has been sending teams of volunteer nurses to the Tuscon area since February.
Diane McClure, a registered nurse from Sacramento and a member of the California Nurses Association/National Nurses Organizing Committee board of directors (an NNU affiliate), said it is extremely important for RNRN to help migrants and their families who are escaping terrible conditions and seeking asylum in the United States.
 
"Our country was built by immigrants," said McClure. "Medical care is a human right and all people deserve to be treated with dignity and respect."  
 
Nurses in past deployments have expressed great concern about the harsh and unhealthy conditions migrants are facing in federal detention, conditions that have led to the deteriorated medical states of some migrants.
 
Nurses note that detainees are often housed in fenced cages with concrete floors, in cold temperatures without adequate bedding or clothing for warmth. Nurses from previous RNRN deployments said that they have heard repeated stories of medications being confiscated or denied to those in custody.
 
In addition, the nurses are distressed by migrants' reports that they are being held for days  without access to adequate food, clean water, or given an opportunity to bathe. They note that migrants nearly always arrive at the shelter very hungry, and suffering from dehydration.
 
"I am shocked and appalled that families have been detained and denied adequate nourishment and medical care until they arrive in a safe shelter," said McClure.
 
Gillian Aitken, a registered nurse from Phoenix, is taking part in this weekend's deployment. She has a long history of providing disaster relief medical care, but this will be her first trip with RNRN. She said it is important for her to be there for others, as nurses supported her as a child facing numerous health issues.
 
"Nurses have always been there for me and I want to provide that support and care for others," said Aitken. "Migrants and asylum seekers need to be treated with respect and compassion. I am a human being, they are human beings. It is my passion and brings me joy to be able to help those in need."
 
Catholic Community Services of Southern Arizona, the group running the shelter, said that the RNRN nurse volunteers are providing an invaluable and critical service for migrant families.
 
"Working with RNRN has been an amazing gift," said Teresa Cavendish, director of operations for the Casa Alitas program. "The compassion, the understanding, and the empathy of the nurses, accompanied with the consistent, high-quality, round-the-clock nursing care they provide when they are with us, is more than we ever expected."
 
RNRN volunteer nurses have cared for thousands of patients during disaster relief and humanitarian assistance deployments that include the South Asian tsunami (2004); Hurricanes Katrina and Rita (2005); the Haiti earthquake (2010); Hurricane Sandy (2012); Super Typhoon Haiyan/Yolanda (2013); Hurricanes Harvey and Maria (2017); Vulcan de Fuego Relief in Guatemala and Hurricane Michael (2018); and the Continuing Promise 2010 and 2015 humanitarian missions with the Department of Defense. RNRN volunteers have also provided first aid and basic response services to hundreds of community events across the country, as well as rotating teams who assisted the water protectors in Standing Rock in 2016.
 
RNRN is powered by CNF and NNU, the largest union and professional organization of registered nurses in the United States with more than 150,000 members.