Press Release
RN Response Network Sends Volunteer Nurses to Butte County in Aftermath of California Wildfires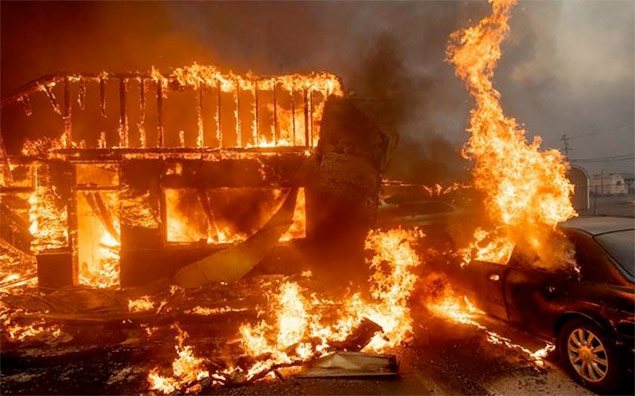 The Registered Nurse Response Network (RNRN) is sending volunteer nurses to Butte County, California to assist in responding to the disaster created by the deadly Camp Fire, the California Nurses Association/National Nurses United (CNA/NNU) announced today.
Volunteer RNs will be deployed to local shelters and clinics, in conjunction with the Butte County Public Health Department, from Saturday, November 17 through Friday, November 23. Lead RN for the deployment, Tammi Bachecki of Kaiser Walnut Creek, has previously deployed to Puerto Rico and to Florida for hurricane relief work with RNRN, and says she didn't hesitate when the call went out to help closer to home.
"Going to Puerto Rico last year made me realize that disaster relief work gets back to the roots of nursing. It feels good to be able to make a difference, and it will be good to help fellow Californians," said Bachecki, who rearranged her family's Thanksgiving plans so she could be in Butte County through next week. "There will be other holidays; it's more important that I'm there and helping in any way that I can. If the situation were reversed, I would hope that someone would help me."
Bachecki said she expects patients the volunteer nurses are likely to see in clinics are those with respiratory issues, those who don't have access to their medications, and people with chronic conditions such as diabetes and hypertension.
As of Friday, the death toll from the Camp Fire had risen to 68, with the list of missing now at over 600. At 45 percent contained, the fire has destroyed 9,844 residences and 336 commercial buildings. Bachecki says that this is an unprecedented disaster, and that her heart breaks for those who have lost their homes, their loved ones, and their pets.
Additionally, as a nurse, Bachecki says she is concerned about the health impacts of the smoke lingering over other parts of the state.
"Even in Walnut Creek, we have had patients come through our Emergency Room to be treated for respiratory issues," said Bachecki. "Climate change makes an impact. We have all this smoke, and we have all these people getting sick. To be having air quality so bad throughout the state is a reflection of just how bad it is."
The RNRN volunteer nurses plan to remain through November 23, unless evacuation orders are lifted sooner and they are no longer needed. Until then, they will be there, providing care.
"I'm just hoping we can help out and make a difference, make their holiday a little better," said Bachecki.
RNRN volunteer nurses have cared for thousands of patients during disaster relief and humanitarian assistance deployments that include the South Asian tsunami (2004); Hurricanes Katrina and Rita (2005); the Haiti earthquake (2010); Hurricane Sandy (2012); Super Typhoon Haiyan/Yolanda (2013); Hurricanes Harvey and Maria (2017); Vulcan de Fuego Relief in Guatemala and Hurricane Michael (2018); and the Continuing Promise 2010 and 2015 humanitarian missions with the Department of Defense. RNRN volunteers have also provided first aid and basic response services to hundreds of community events across the country, as well as rotating teams who assisted the water protectors in Standing Rock in 2016.
RNRN is powered by NNU, the largest organization of registered nurses in the U.S.