Press Release
RN Response Network Deploys Nurse Volunteers to Florida to Help Provide Medical Assistance Post-Hurricane Michael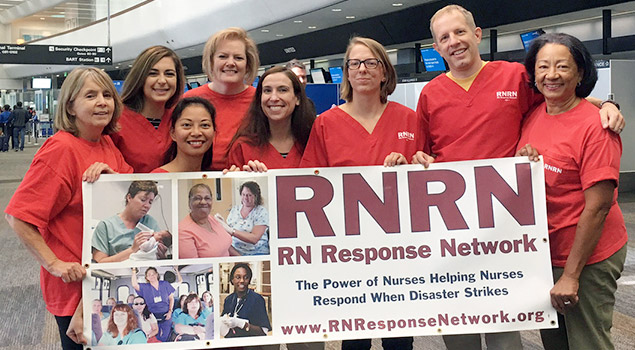 National Nurses United (NNU)'s Registered Nurse Response Network (RNRN), a national network of volunteer nurses, will deploy RN volunteers to Tallahassee, FL, in conjunction with International Medical Corps, to assist locals in providing medical assistance in the wake of Hurricane Michael, NNU announced today.
"Hurricane Michael is the strongest storm to hit the Florida panhandle in 100 years, and our RN Response Network volunteer nurses are committed to helping those in its path—including providing relief for our local nurse colleagues, whose homes and families will also be impacted," said Bonnie Castillo, RN. "As nurses, it's our duty to help patients in need, and RNRN volunteers always rise to the calling. We want the people of Florida to know that our hearts are with them, and the nurses are on their way."
With maximum sustained winds of 155 mph, more than 500,000 people were either ordered or urged to evacuate the path of the hurricane, which, as of Thursday, had been blamed for at least six deaths.  Life-threatening storm surges are exacerbating flooding from rainfall. While the panhandle is the main area stricken by the hurricane, nurses say they are concerned for patients across the region, as the storm is expected to pass over the Carolinas and areas still recovering from Hurricane Florence.
"As a nurse, I'm really honored to be called upon to provide relief for the people of Florida," said RNRN volunteer Vanessa Soldo-Jones, of Minnesota, who has previously volunteered in Puerto Rico, post-Hurricane Maria. "I am looking forward to helping out. I pray for the safety of all the residents of Florida, as well as all the responders."
RNRN volunteer nurses have cared for thousands of patients during disaster relief and humanitarian assistance deployments that include the South Asian tsunami (2004); Hurricanes Katrina and Rita (2005); the Haiti earthquake (2010); Hurricane Sandy (2012); Super Typhoon Haiyan/Yolanda (2013) and the Continuing Promise 2010 and 2015 humanitarian missions with the Department of Defense. RNRN volunteers have also provided first aid and basic response services to hundreds of community events across the country, as well as rotating teams who assisted the water protectors in Standing Rock in 2016.
RNRN is powered by NNU, the largest organization of registered nurses in the U.S.