Press Release
RN Response Network to Deploy Additional Nurse Volunteers to Houston Post-Hurricane Harvey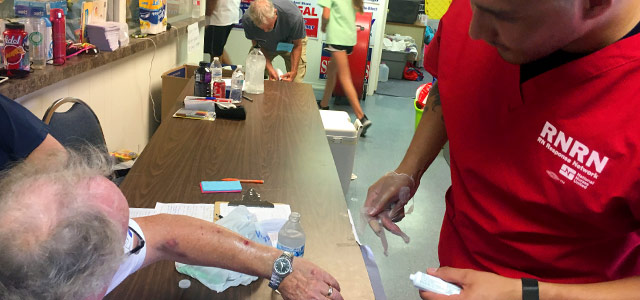 RNs to Provide Medical Assistance at Houston's NRG Center
National Nurses United (NNU)'s Registered Nurse Response Network (RNRN), a national network of volunteer nurses, will deploy its second delegation of RN volunteers to Houston, beginning Monday, September 11, to provide medical assistance in the wake of Hurricane Harvey, NNU announced today.
"What we know from RNRN's work in previous disaster-stricken areas, including hurricanes Katrina and Rita, as well as post-earthquake Haiti and super typhoon Haiyan, is that after an initial surge of volunteers, many people have to return to work. That is true in this case, as well as some volunteers being pulled to Florida, to address the impending hurricane Irma," said RNRN director Bonnie Castillo.
"Yet, the disaster didn't end for Texans still in the recovery process. So our next round of volunteer nurses will be deploying to help continue ensuring enough medical aid exists on the ground for those impacted by hurricane Harvey."
The current team of RNRN volunteer nurses will be providing medical assistance at Houston's NRG Center. They are being deployed on the heels of an initial advance team of RNRN volunteers, who provided care at the George R. Brown Convention Center and the NRG Center in Houston and traveled to the nearby, hard-hit community of Beaumont, where they helped to set up a clinic and also provided care to residents of an assisted living community who were in need of medical aid.The advance team was able to work with local officials to help identify the need for another team of RN volunteers.
"The reason why I became a nurse is that I have always felt compelled to help those in need in the worst moments of their lives," said Cleveland, Ohio RN Lisa Nguyen, who will deploy with the September 11 delegation. "Disaster relief and humanitarian work is something I've always wanted to use my skills for, and when the opportunity arose to go to Texas and help with hurricane Harvey came about, I knew I had to go. This fulfills the calling of why I became a nurse."

"I hope to provide some healing to residents of Houston," said volunteer RN Dotty Nygard, of Tracy, California, who will also deploy September 11. "That's what we do, as nurses; we go where we're needed, and we help. I'm proud to be a member of RNRN because we can use our expertise at a crucial time when people are hurting and suffering."
RNRN will also carefully monitor the dangerous path of Hurricane Irma, to assess whether RNRN volunteers are needed in the aftermath of Hurricane Irma.
Related Links
RNRN volunteer nurses have cared for thousands of patients during disaster relief and humanitarian assistance deployments that include the South Asian tsunami (2004); Hurricanes Katrina and Rita (2005); the Haiti earthquake (2010); Super Typhoon Haiyan/Yolanda (2013) and the Continuing Promise 2010 and 2015 humanitarian missions with the Department of Defense. RNRN volunteers have also provided first aid and basic response services to hundreds of community events across the country, as well as rotating teams who assisted the water protectors in Standing Rock in 2016.
RNRN is powered by NNU, the largest organization of registered nurses in the U.S.