Press Release
Registered Nurses Step Up Campaign to Stop Fast Track With New Radio Ads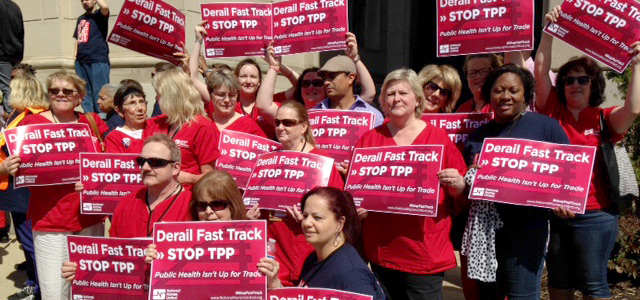 The registered nurses of National Nurses United (NNU) are stepping up pressure on several members of Congress, urging them to vote "No" when the US House of Representatives considers Fast Track authority for the Trans-Pacific Partnership (TPP).
The ads, which begin running on local stations today in six media markets, emphasize that "right now, our government is negotiating new international trade agreements that will make lifesaving drugs much more expensive—especially ones that show promise in battling cancer, MS and Alzheimer's disease."
Congressional members identified as having swing votes and in whose districts the ads will run are: Rep. Steny Hoyer, Rep. Seth Moulton, Rep. Sam Farr, Rep. Beto O'Rourke, Rep. Susan Davis, and Rep. Ruben Hinojosa.  
Martha Kuhl, RN, Secretary-Treasurer of NNU, who speaks in the ads, says Fast Track eliminates the ability to amend any aspect of the proposed trade deal. The TPP has been roundly criticized for, among other things, increasing the cost of prescription drugs and reducing access to lifesaving medication.
To hear sample of the ads, click here: https://soundcloud.com/national-nurses-united/tpp-rep-steny-hoyer-2 and https://soundcloud.com/national-nurses-united/tpp-rep-ruben-hinojosa (Spanish version)
A Doctors Without Borders report says, "the US government is pushing policies in the TPP that represent the most far-reaching attempt to date to impose aggressive Intellectual Property (IP) standards in a trade agreement with developing countries— policies that further tip the balance towards strong IP regimes favoring commercial interests and away from public health. 
"For pharmaceuticals and other health commodities, stronger IP regimes mean extended patent monopolies and delayed generic competition, and that translates into higher prices for people who need medicines. In developing countries, where people rarely have health insurance and must pay for medicines out of pocket, high prices keep lifesaving medicines out of reach and are often a matter of life and death."
Joining with community, public health, labor, religious groups and others, nurses from across the country, members of National Nurses United (NNU), the largest union and association of registered nurses in the U.S., are urging these Congressmembers, to vote "No" to Fast Track international trade negotiations.
"I've never been so proud of the American labor movement and its leader Richard Trumka, President of the AFL-CIO, giving voice and force to working people against multinational corporations. It is an inspiring moment up against such enormous wealth, political power and false promises," said RoseAnn DeMoro, NNU's executive director.
"The secretive nature of Fast Track is an affront to democracy and to our national traditions of open and honest public debate," said Jean Ross, RN, NNU Co-President, who also appears in the ads. "With so much at stake—food safety, the cost of critical medicines, limiting industrial pollution—we urge Congress to listen to our call to stop Fast Track now."
"What's been leaked in this secretive procedure is startling," said Martha Kuhl, RN, NNU secretary-treasurer.  "This treaty undermines food safety by lowering standards on imported foods.  It undermines environmental regulation, as well, making it easier for corporations to fight bans on toxic practices.  It is a disaster for the public's health."
National Nurses United (NNU) is the largest organization of registered nurses in the U.S., with 190,000 members nationwide.