Press Release
Registered Nurses at Stanford Health Care's ValleyCare Medical Center in Livermore/Dublin Vote to Join California Nurses Association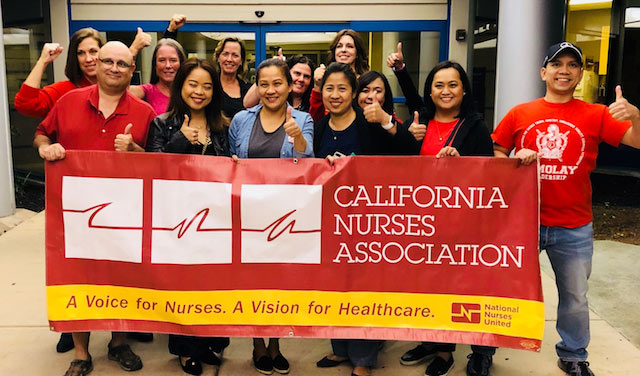 Registered nurses at Stanford Health Care's ValleyCare Medical Center in Livermore/Dublin, CA voted overwhelmingly Wednesday night to join the state's largest RN union, the California Nurses Association/National Nurses United (CNA/NNU). The nurses at the Livermore/Dublin campuses will join the same bargaining unit as the nurses at the Pleasanton campus.
The National Labor Relations Board, which oversees private sector labor relations, conducted the secret ballot vote.
ValleyCare RNs celebrated Wednesday's vote to join CNA.
"I am thrilled with this vote, and I look forward to working out a contract that will translate into safe quality care for our patients," said Lou Puposki, a registered nurse in the urgent care unit with 28 years of experience. "We have seen a revolving door of nurses here. With a strong contract, we will be able to attract and retain the most experienced nurses and create an environment that gives nurses the space to assess, treat and advocate for our patients at the highest level possible."
Nurses say key issues in their decision to join the union were the desire for a stronger collective voice on patient care issues, especially in improving safe staffing levels based on the state's minimum nurse to patient ratios law. Nurses also want to see an end to unsafe assignment of RNs to clinical areas for which they do not have clinical expertise.
"On behalf of 100,000 members of the California Nurses Association, I am excited to welcome the Stanford ValleyCare Livermore/Dublin RNs to CNA," said CNA Co-President Malinda Markowitz, RN. "We look forward to working with you to achieve the highest level of quality care for your patients and support you as you advocate for your patients and your community."
 Stanford acquired formerly independent ValleyCare in 2015. In April, the registered nurses at Pleasanton ValleyCare voted to join CNA. Management initially blocked the Livermore/Dublin nurses in joining that vote, but the NLRB sided with the union saying the Livermore/Dublin nurses should be allowed to join the same bargaining unit.
The ValleyCare nurses are scheduled to begin negotiating their first union contract later this month.
The California Nurses Association has 100,000 members throughout the state. CNA is affiliated with National Nurses United, the largest and fastest growing union of registered nurses in the US with more than 150,000 members nationwide. CNA/NNU plays a leadership role in safeguarding the health and safety of RNs and their patients and has won landmark legislation in the areas of staffing, safe patient handling, infectious disease and workplace violence prevention.