Press Release
Registered Nurses at Saint Mary's Regional Medical to Picket for Patient Safety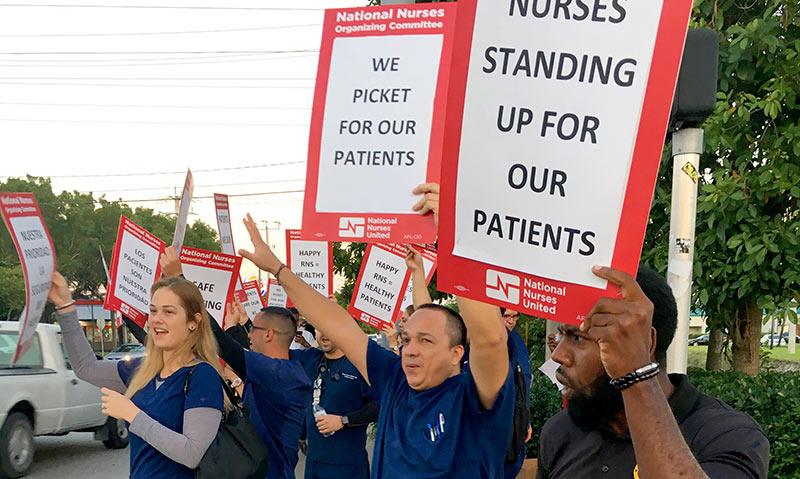 Registered nurses will hold an informational picket at Saint Mary's Regional Medical Center, a hospital owned and operated by Prime Healthcare, in Reno, Nev. on Wed. Sept. 18, to advocate for patient safety, the National Nurses Organizing Committee announced today.
What: Informational Picket for Patient Safety
When: Wed. Sept. 18   11 a.m. to 1 p.m.
Where: Saint Mary's Regional Medical Center West
235 W 6th St, Reno, Nev.
Registered nurses and Saint Mary's management have been negotiating for a new contract that includes improvements to safe patient staffing (RN-to-patient ratios) for all shifts, professional development to improve nursing practice, and conditions to improve retention and recruitment of experienced nurses.
Registered nurses were prepared to reach an agreement on a new contract during scheduled negotiations on Sept. 4. However, on that day, Prime Healthcare withdrew its previous proposals for a new contract and threatened to remove RN-to-patient ratios from the nurses' contract. Registered nurses have called for an informational picket to hold Prime Healthcare accountable and to ensure patients receive the health care they need and deserve.
"Registered nurses came to the table prepared to reach an agreement to ensure safe patient staffing," said Tamara Erickson, a Saint Mary's RN for more than 29 years. "Prime came to the negotiating table to withdraw their own proposals. Nurses have no other choice but to picket. We need to take action for our patients."
National Nurses Organizing Committee is affiliated with National Nurses United (NNU), the largest and fastest growing union of registered nurses in the United States with 150,000 members including nearly 600 registered nurses at Saint Mary's Regional Medical Center.
NNU plays a leadership role in safeguarding the health and safety of RNs and their patients and has won landmark legislation in the areas of staffing, safe patient handling, infectious disease and workplace violence prevention.