Press Release
Registered Nurses Reach Tentative Agreement Covering 7000 RNs at 17 HCA-Affiliated Hospitals in 5 States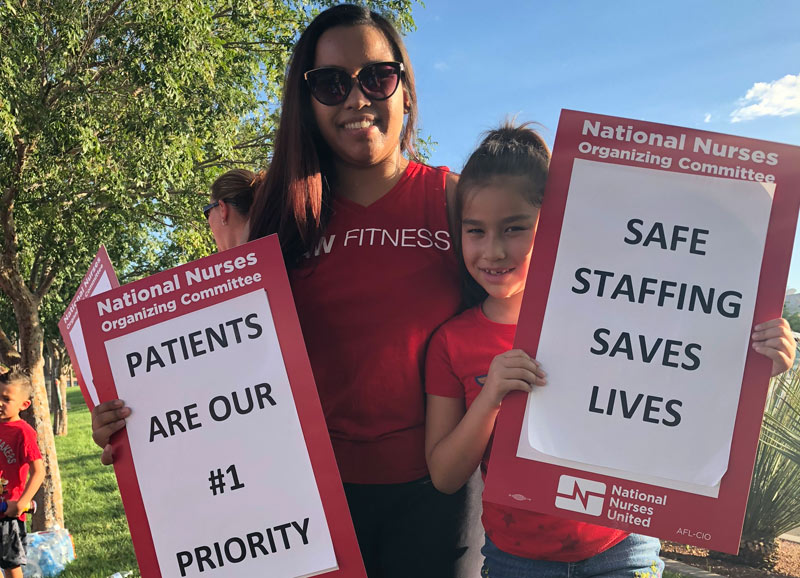 Registered nurses at HCA-affiliated hospitals in Florida, Missouri, Kansas, Texas, and Nevada, have reached tentative agreements featuring a number of innovations that will benefit both patients and nurses, the National Nurses Organizing Committee announced today.
 
The pacts cover 7000 RNs at ten HCA-affiliated hospitals in Florida, four in Texas, and one each in Missouri, Kansas, and Nevada. If approved in voting starting this weekend, the agreements, would run through May 31, 2021 at the hospitals in Florida, Kansas, and Missouri, and through June 30, 2021 at the facilities in Texas and Nevada. HCA is the largest for-profit hospital chain in the country.
 
"On behalf of our members across the nation, I extend a hearty congratulations to the nurses at these HCA-affiliated hospitals, for winning agreements that honor and support optimal patient care," said National Nurses United Director, Bonnie Castillo, RN. "These new pacts clearly demonstrate what nurses can accomplish when we are persistent and unified, including in environments that are hostile to collective bargaining rights. Your powerful patient advocacy is an inspiration to us all."
 
"Our collective effort, spanning five states, has yielded wonderful results," said Lucia Adams, RN, who works on the Maternal Child Transport Team at Las Palmas Medical Center in El Paso, Texas. "The new agreements will really help us nurses provide high quality care for our patients and the communities we serve."
 
"After many months of dedicated, coordinated bargaining we have settled on terrific new agreements with all the hospitals," said Jack Hood, an RN in the ICU at Oakhill Hospital in Brooksville, Fla. "The gains we have achieved are truly remarkable, and will greatly improve our ability to recruit and retain nurses so that we can give our patients the care they deserve."
 
"We are very proud of the new agreements because they fulfill our commitment to negotiating solutions to the issues we've been raising, including turnover, recruitment and retention," said Leslie Rogers, RN, Operating Room, Research Medical Center, Kansas City, Mo.  "We know these agreements will have a positive impact on a number of levels and contribute to our ability to provide our patients with safe, quality care."
 
The agreements make substantial strides for working conditions for RNs, patient care standards and the quality of care at the 17 facilities as well as noteworthy economic gains.
Highlight of the agreements include:
Creates a new critical needs staffing differential that will provide for additional staffing in order to consistently have optimal staffing.
Provides fair and equitable raises to improve recruitment and retention of nurses ranging from 4 percent to 20 percent over the lifetime of the agreement, depending on years of experience and classification.
Maintains health insurance coverage for nurses and their families.
Improves tuition reimbursement and improved coverage for nurses needing Family Medical Leave.
Increases protections and solutions to prevent workplace violence.
The new agreements cover the following HCA-affiliated hospitals, with a total workforce of 7000 RNS:
Florida
Bradenton - Blake Medical Center
Brooksville - Oak Hill Hospital
Kissimmee - Osceola Regional Medical Center
Largo Medical Center, Largo
Port Charlotte - Fawcett Memorial Hospital
Sanford - Central Florida Regional Hospital
Sarasota - Doctors Hospital of Sarasota
St. Petersburg - Northside Hospital
St. Petersburg - St. Petersburg General Hospital
Trinity - Trinity Medical Center
Kansas
Overland Park - Menorah Medical Center
Missouri
Kansas City - Research Medical Center
Nevada
Las Vegas - MountainView Hospital
Texas
Brownsville, Valley Regional Medical Center
Corpus Christi - Corpus Christi Medical Center
El Paso - Las Palmas Medical Center
El Paso - Del Sol Medical Center