Press Release
Registered Nurses Host Town Hall Meeting to Highlight Patient Safety Concerns at Salinas Valley Memorial Hospital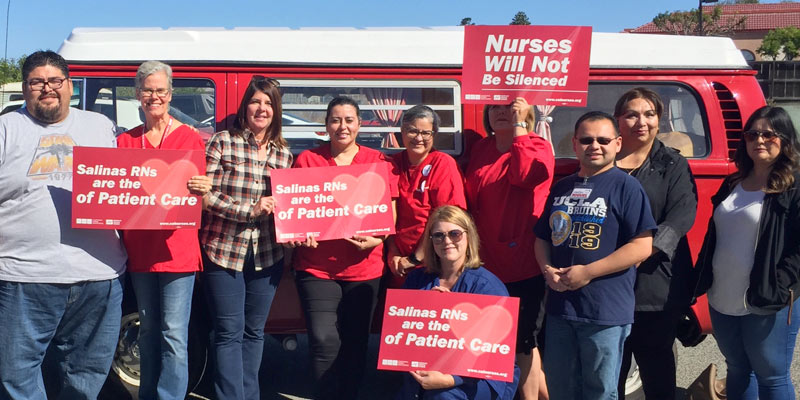 Registered nurses are hosting a town hall meeting Thursday, October 11, to highlight concerns about the Salinas Valley Memorial Healthcare System Board of Directors' commitment to the health and wellness of all community members. Nurses also want to highlight what should be the responsible use of taxpayer money by the Board, since it has approved in the past exorbitant salaries for executives, according to the California Nurses Association (CNA). The town hall meeting is being held ahead of the November 6 Salinas Valley Memorial Healthcare System board election.
 
"Nurses know that healthcare should never be about making money for those at the top," said Molly McCarty, a registered nurse. "A public hospital should be about healing and using public funds to invest in the health of our community. The health and welfare of our community depends on an elected public hospital board that will direct, oversee, and lead the administrators to put patient needs and community health first."
 
According to the California state controller's office, Pete Delgado, the CEO and president of Salinas Valley Memorial Healthcare District, received $827,136 in 2017. The Salinas Valley Memorial Healthcare System Board of Directors approves all executive salaries. According to the controller's website, Delgado was one of the top ten highest paid special district executives in the state. By comparison, the mayor of San Francisco was paid $300,977 in 2017.
 
WHAT: Salinas Valley Memorial Town Hall
WHEN: Thursday, October 11 at 6 p.m.
WHERE: 36 Quail Run Circle, Suite 101, Salinas, CA  
Speakers include: Jeanne Hayashi, RN
               Molly McCarty, RN
               Jovita Dominguez, RN
               Dr. Williams Khieu, OB-GYN
               Kaylah Bumba, Senior Advocate and Community Leader
               Sarait Martinez, Safe Ag Safe Schools
 
Salinas Valley Memorial Healthcare System nurses and CNA are endorsing three candidates for the Salinas Valley Memorial Healthcare System Board of Directors:
Regina Gage for Zone 1
Regina Gage is the executive director of Meals on Wheels of Salinas Valley, which provides meals to seniors in need. Prior to that, she spent years as a legal advocate for victims of domestic violence. Her track record shows a commitment to care for the underserved and often overlooked people in Salinas Valley.
Cesar Lara for Zone 4
Cesar Lara is the executive director of the Monterey Bay Central Coast Labor Council. He has a long history of fighting for workers' rights and is active in the effort to call for the expansion of health care to all Californians, regardless of immigration status.
Timothy Miguel for Zone 5
Timothy Miguel works as a behavioral health counselor providing care to low-income youth. As a child, he was diagnosed with juvenile diabetes and understands the need to provide high quality and affordable services to address this illness that affects so many people in Monterey County. According to a 2015-2016 California Health Survey by the UCLA Center for Health Policy, 57 percent of the adult population in Monterey County was diagnosed with diabetes or pre-diabetes. Statewide, the average was 55 percent.
 
All three candidates have shown a deep commitment to the most vulnerable populations in our community and have pledged to respect the voices of nurses as advocates for patients, best nursing practices and safe working conditions.
 
"As a physician, my first and most important duty is to provide the best level of care and advocacy I can to my community. Registered nurses share that ethical and legal duty in advocating for their patients at the bedside and beyond every single day," said Dr. William Khieu, an obstetrician-gynecologist with Salinas Valley Memorial Hospital. "I have chosen to stand alongside and support the nurses at our upcoming community forum because I also share nurses' belief that our public hospital's board of directors have this same duty. Our patients and community deserve a hospital board that has the courage to lead senior administration, and to support and listen to the front-line nurses and other staff, and who will never put dollar signs on the care we have vowed to give to our patients."
 
"Monterey County deserves a hospital board committed to putting our patients first," said Jovita Dominquez, a registered nurse who has worked at Salinas Valley Memorial Hospital for 27 years. "We need a hospital board that listens and ensures nurses have a right to advocate for their patients, and that will defend the rights and protections for our profession that we have fought so hard to win through our union."