Press Release
Registered Nurses at Holy Cross Hospital to Rally for Safe Patient Care and Union Organizing Rights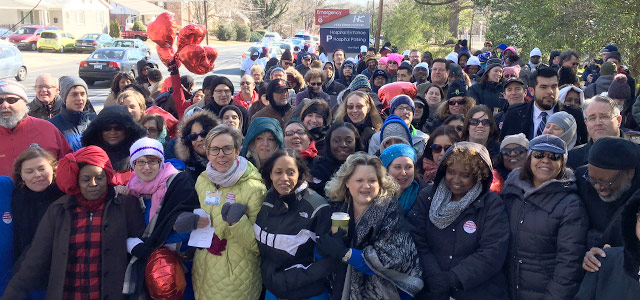 Federal Government Finds Merit in Union's Unfair Labor Practice Charges
Registered nurses working at Holy Cross Hospital, joined by members of the community, will rally Monday, February 13th for safe patient care and to defend their right to organize a union free of management harassment, interference and intimidation.
Nurses say that hospital management has been unwilling to address patient care concerns, particularly safe staffing.
What: Nurses Rally for Safe Patient Care at Holy Cross Hospital
When: Monday, February 13, 9:30 a.m. - 11:30 a.m.
Where: Outside Holy Cross Hospital at 1500 Forest Glen Road, Silver Spring, Md.
"Providing a safe and high quality standard of nursing care is the priority for registered nurses," said Susan Yeh, a registered nurse working in the Joint Spine Department of Holy Cross.  "When Holy Cross Hospital management puts profit before patient care, nurses have been moved to work to transform our hospital so that we can provide the highest quality of care possible for our patients."
Hospital management has used intimidation, harassment, and retribution to frustrate nurses' efforts to advocate for their patients and to organize a union at the hospital, say nurses. Nurses are taking action to address the unfair labor practices committed by hospital executives and their refusal to fairly meet the safe patient care and workplace justice demands of registered nurses.
The National Labor Relations Board has recently found merit on multiple charges filed on behalf of nurses against Holy Cross Hospital. The violations of the National Labor Relations Act include: restraining and coercing its employees, spying on or creating the impression of spying on employees in their protected concerted activity; and interrogating employees about their union support.
At the rally RNs will speak out against understaffing, which is unsafe for patients at Holy Cross Hospital. 
"As a nurse in Labor and Delivery, I have seen expectant mothers wait for up to 8 hours unable to be moved to a room in labor and delivery because there are no nurses to take the patients," said Joy Richardson, a registered nurse working in Holy Cross Hospital's labor and delivery unit since 2005.  "Nurses need a union so that our voices and the voices of our patients can be heard. Our dedication to our patients is strong and unwavering so we must be strong and band together for our patients so our requests for adequate staffing, breaks, and proper orientations do not continue to be ignored."
Holy Cross Hospital, the eighth largest employer in Montgomery County, Md., is owned by Trinity Health, one of the largest Catholic hospital corporations in the United States, with $23.4 billion in assets and profits last year of $89.8 million.