Press Release
Registered Nurses To Hold Memorial To Honor The More Than 160 Nurses Who Have Died From COVID-19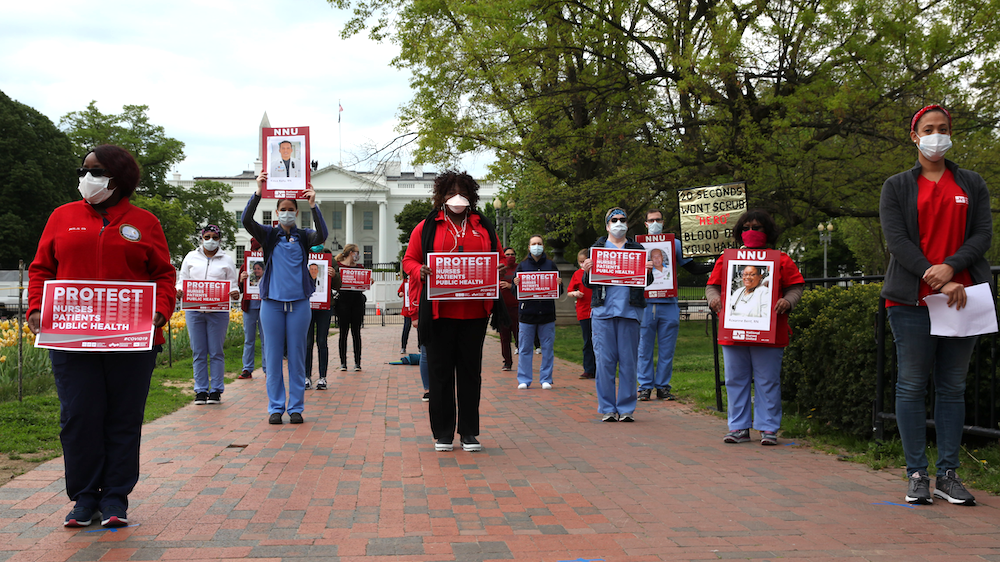 Nurses demand Senate act now to ensure optimal PPE for frontline health care workers
National Nurses United (NNU) will hold a memorial on Tuesday, July 21 to honor the more than 160 nurses who have lost their lives from COVID-19 in the United States, and to demand the Senate act swiftly to protect nurses on the frontlines. Nurses will gather at the Capitol demanding that the U.S. Senate pass the HEROES Act, which would provide much needed personal protective equipment (PPE) and regulatory protections for frontline health care workers. The Senate is scheduled to reconvene that morning.
"How many of these frontline nurses would be here today if they had had the equipment they needed to do their jobs safely?" said Zenei Cortez, RN, president of National Nurses United. "The House of Representatives passed the HEROES Act on May 15 but Senator Mitch McConnell has sat on his hands as the pandemic has surged and nurses and other health care workers have gone without the proper PPE, causing many to get sick and die. 
"We urge the Senate to act now to pass this bill, and to make sure that an OSHA emergency standard on infectious diseases for frontline workers is promulgated and the Defense Production Act is fully invoked so that PPE can be mass-produced in the volumes required," she continued.  "Congress must ensure that no other nurse will be put in danger caring for patients without proper protections." 
What: Memorial for RNs who died from COVID-19; Demand Senate pass HEROES Act
Who: Nurses from National Nurses United  
When: Tuesday, July 21, 9:15 a.m. EST
Where: On the pathway leading to the Capitol Dome at First Street, NE and East Capitol Street, Washington, D.C.
The memorial will be livestreamed on the Facebook page of NNU Executive Director, Bonnie Castillo - RN and National Nurses United's Facebook page. 
The HEROES Act is a comprehensive $3 trillion bill that would provide badly needed economic assistance to working families and state, local and tribal governments across the country.  The bill, if enacted, would ensure the increased production and delivery of PPE and other medical supplies, through the use of the Defense Production Act and new systems for reporting, transparency, and coordination of supply chain logistics. The bill establishes a Medical Supplies Response Coordinator who would coordinate all efforts of the federal government related to the supply and distribution of critical medical supplies and equipment.
The legislation also would mandate the federal Occupational Safety and Health Administration (OSHA) to promulgate an Emergency Temporary Standard on infectious diseases to ensure that employers protect workers during the COVID-19 pandemic. This standard would prevent hospital managers and other employers from locking up personal protective equipment or providing incorrect protective equipment, and it would ensure that employees receive the education and training needed to use PPE safely.
These two provisions are absolutely critical and must be included in any COVID legislation Congress passes.
"The death of one nurse who became ill because they were forced to work without adequate PPE is heartbreaking, but the death of so many nurses due to the failure of the federal government to act swiftly is unconscionable," said Cortez. "As we mourn the loss of our fellow nurses, we recommit ourselves to fighting to get the equipment we need to those who are working at the bedside to care for those suffering from this deadly virus."