Press Release
Registered Nurses Endorse Vincent Fort for Mayor of Atlanta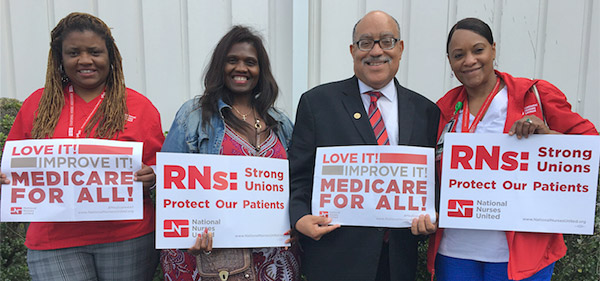 The National Nurses Organizing Committee/National Nurses United today endorsed Vincent Fort to be the next Mayor of Atlanta.
"Nurses are proud to endorse State Senator Vincent Fort for Mayor because of his inspiring vision for Atlanta and his track record of advocacy for social, economic, and racial justice," said Belinda Howard, an Atlanta registered nurse and member of NNOC/NNU. 
"Sen. Fort has been a resolute leader working to narrow the gap between rich and poor, stop predatory lending, and improve our city and our state for years.  He shares nurses' values of caring, compassion and community, and has demonstrated his dedication to ensuring that everyone in this city has a bright future and received the health care they need and deserve," Howard said.
"I'm honored to have earned the support of NNOC/National Nurses United," said Fort.  "NNU members in Georgia are working hard day and night to take care of our veterans, and they are fighting to make sure every American has the right to healthcare." "As Mayor, I will fight by their side to do that and I will work with them to get Atlanta City Hall focused on the needs of everyday Atlanta and instead of just the wealthy and political insiders," Fort said.
NNOC RNs campaigned alongside Fort last year during the presidential primaries in support of Senator Bernie Sanders' candidacy. Among other critical issues, nurses cited Fort's support for Medicare for All healthcare reform, because health care is a human right, and his support for safe staffing in Atlanta's hospitals so that patients receive optimal care.
"While too many politicians do the bidding of big business, Vincent will be the people's Mayor.  He has demonstrated his dedication to addressing our challenges, his willingness to make the hard decisions, and his focus on building a bright future for everyone in our city," said Atlanta RN Vanessa Maye. "Vincent Fort is the bold, progressive, visionary leader Atlanta needs to move forward in the 21st century."
"We are excited to work with Sen. Fort to ensure inclusive prosperity, quality healthcare, a clean environment, quality education and so much more for Atlantans," Maye said. "Nurses are eager to campaign for Vincent around the city to help elect him mayor."
NNOC is an affiliate of National Nurses United, the nation's largest union of registered nurses.