Press Release
Registered Nurses, Doctors, Hospital Workers, Social Justice Advocates, and Community Leaders Demand Ascension Saves Providence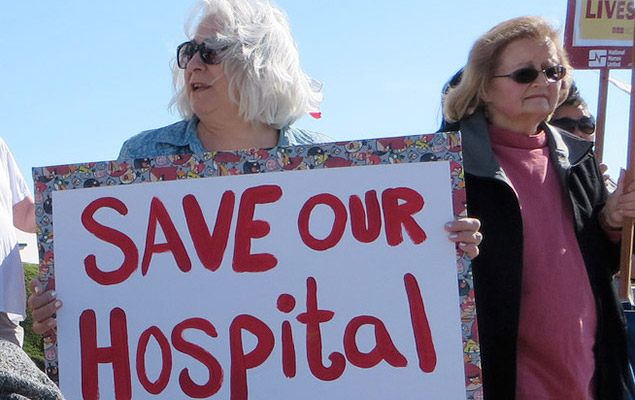 TONIGHT: September 13 - Community Meeting
Registered nurses, doctors, social justice advocates, hospital workers, and faith-based community members demand that Providence Hospital in D.C. remain open as a fully functioning hospital with acute-care services.
"My surgical unit is full of people from our community who need immediate care," says Rose Farhoudi, a registered nurse at Providence Hospital and a member of National Nurses United. "Where will these people go? We already know the emergency room waits in D.C. are too long. With only one other acute-care hospital on the east side of D.C., we cannot afford to lose any more medical services. Providence must stay open to serve those in eastern Washington D.C."
The latest information available from the American Hospital Association shows that from the start of 2014 through 2016, the number of emergency room visits at Providence Hospital increased by more than 25 percent. Over that three-year period, there were 142,000 ER visits to Providence.
"Closing Providence will hurt our most vulnerable," says Rev. Graylan Scott Hagler of Plymouth Congregational United Church of Christ. "The poor, the elderly, those most in need will be forced to live with their diseases. They will have to die untreated, that is what we have to fight against. We need everyone in D.C. to demand Providence remain open because when we come together we can prevail."
Tonight, a diverse group of community members from around D.C. will gather to strategize and coordinate efforts to keep Providence Hospital open.
What: Community Meeting
When: TONIGHT - Thursday September 13 -- 7 p.m. to 9 p.m.
Where: Plymouth Congregational Church, 5301 North Capitol Street NE
Ascension, the nation's largest nonprofit Catholic health system, announced it intends to close Providence by the end of December. The hospital serves many low-income, poor, and elderly people with more than 80 percent of its patients receiving Medicaid or Medicare.
"We wish to make a strong appeal regarding the Catholic mission to help and to heal," says Dr. Frederick Gooding, a physical medicine and rehabilitation specialist who has worked at Providence for more than two decades. He notes doctors at the hospital are committed to providing great health care to those who have the least, to communities of color, and to do so in a culturally sensitive manner. 
"Ascension professes to care about the 'poor and the vulnerable' but is willing to close down a hospital that serves the poor and the vulnerable while the CEO takes home millions of dollars each year," says Elizabeth Falcon of DC Jobs with Justice. "Our neighborhoods deserve better and we demand Ascension upholds its stated mission and keep Providence open."
"We have families who've been coming to Providence for generations, their great grandparents came here, their parents were born here," says Vaughn Newman, a medical-surgical technician and member of 1199DC NUHHCE . "We are a family in all senses of the word. The staff is a family and we are family to our patients. If we close, where can the people in the neighborhood go?  We must stay open for those who trust and need us most."