Press Release
Registered Nurses Applaud D.C.'s Decision to File a Lawsuit Against Ascension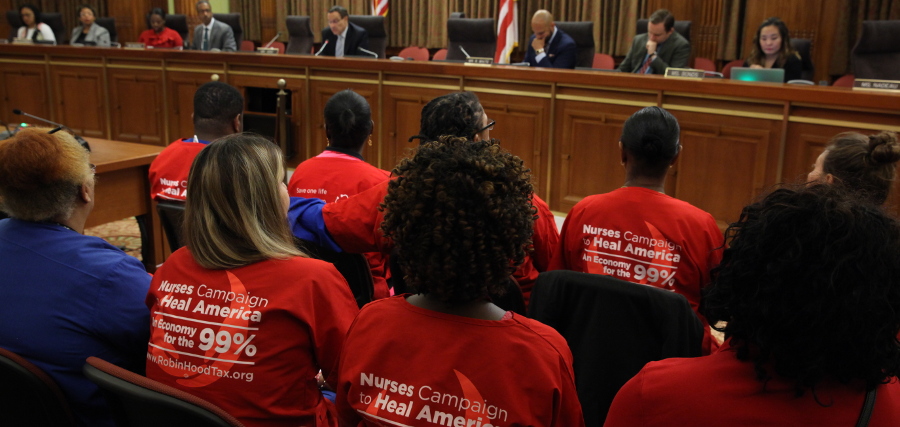 Registered nurses with National Nurses Organizing Committee/National Nurses United (NNOC/NNU) applaud the decision by D.C. elected officials to file a lawsuit against Ascension, the owner and operator of Providence Hospital, charging that the multibillion-dollar St. Louis, Mo. based Catholic nonprofit violated the law when it began shutting down operations at the hospital on Friday, December 14.
"This move by Ascension follows a long pattern of ignoring the needs and well-being of the people of Washington, D.C. and instead following a road map laid out by executives elsewhere in the country, who don't care what happens to the elderly, the poor and the vulnerable who receive care at our D.C. hospital," said Elissa Curry, a registered nurse at Providence Hospital. "We know that Ascension and Providence Hospital executives have closed down units and limited patient admissions to engineer low patient volume in an effort to hide the true need that exists for a 238-bed hospital with a fully functioning emergency room and acute-care services, including surgery."   
The lawsuit filed by the District of Columbia charges that Ascension violated D.C. law by closing and reducing hospital services without first obtaining approval of a hospital closure plan from the State Health Planning and Development Agency (SHPDA.)
According to the lawsuit, "Providence, by reducing staff, limiting the patients it is willing to accept, and reducing, if not altogether eliminating, services, including acute care services, is failing to comply" with D.C. law "which require that it 'maintain a sufficient number of staff with the qualifications, training and skills necessary to meet patient needs.'"
Ascension has said it will staff ten to 15 beds, and continue to operate a low-acuity emergency room.  
"Ascension is trying to make it seem as if it is offering the same services it was prior to December 14, but what they are offering now is quite different, instead of a true emergency room, they are offering what is akin to an urgent care clinic," said Curry. "It is not an emergency room if they do not have an operating room, or intensive care beds or any other of the acute-care services or staff. Under the current plan, the emergency room will not be able to handle an emergency such as a heart attack, or adequately treat someone critically ill with the flu, or even an older person with a broken leg."
Just days before the D.C. lawsuit was filed, registered nurses filed unfair labor practices charges with the National Labor Relations Board (NLRB) accusing Ascension of bargaining in bad faith when it concealed its intention to close the hospital during negotiations in August, September and November of 2017.
"During a November 2 D.C. Council hearing, Providence C.E.O. Keith Vander Kolk, testified that Ascension executives recommended in July of 2017, that the hospital should close, yet in keeping with Ascension's history of hiding its true intentions from the public, Ascension withheld this information from the nurses and the public," said Rose Farhoudi, a registered nurse at Providence Hospital. "Ascension's repeated failure to be transparent with the public continues to put the lives of D.C. residents at risk."
In a December 5 letter in which SHPDA told Ascension it would not approve its closure plan for Providence Hospital, SHPDA noted that "Providence has not submitted any clear evidence that it has developed plans for continuation of services, established transfer agreements, or properly informed the patients that have been receiving services from the Hospital including primary and specialty care. The Hospital in discussions with SHPDA staff has indicated that there are over 20,000 patients that receive care in its outpatient departments." SHPDA went on to note, "Since continuity of care is crucial for management of diseases, there is the danger that patients with chronic diseases and those who are at risk will be negatively impacted… The situation is also likely to lead to unnecessary increases in hospital admissions and emergency room visits. Moreover, patients may disengage and be lost to the health system."
The nurses further charge that Ascension's refusal to negotiate severance packages for the nurses who are losing their jobs at Providence Hospital is a retaliatory act against the nurses for their efforts to keep the hospital open. The nurses claim this is a violation of the National Labor Relations Act.
Providence Hospital serves many low-income, people of color and elderly people with more than 80 percent of its patients receiving Medicaid or Medicare.
Ascension posted $1.6 billion in profits in the first three quarters of this year.