Press Release
PIH Health-Good Samaritan Nurses to Hold Action at Shift Change to Demand Protections When Treating Patients with COVID-19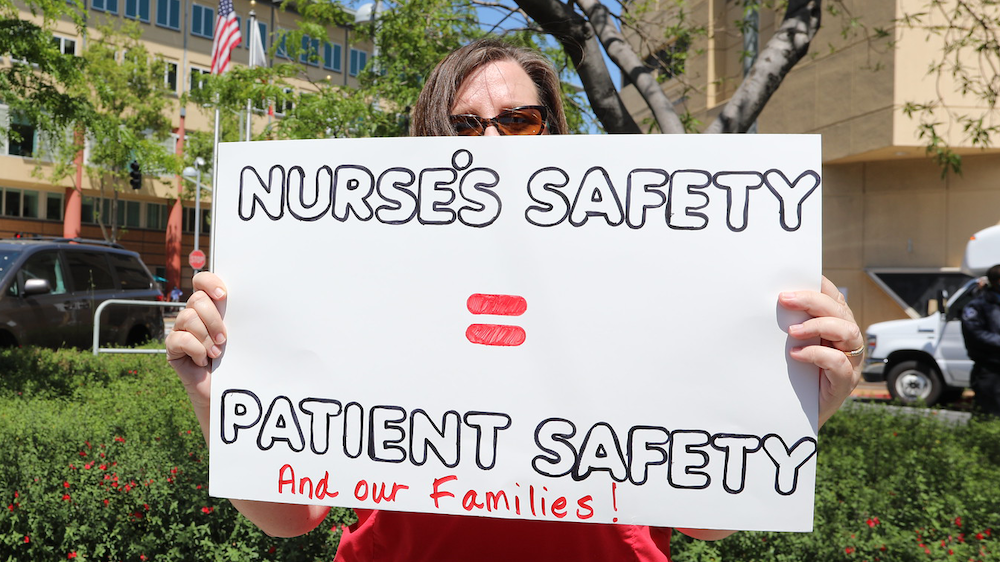 Los Angeles – To protest the lack of personal protective equipment (PPE) for frontline health care workers during this COVID-19 pandemic, registered nurses at PIH Health-Good Samaritan Hospital are holding an action and media availability during their shift change to describe current conditions and the need for more N95 respirators and other protective gear required to safely treat COVID-19 patients, announced California Nurses Association/National Nurses United, the nation's largest and fastest-growing nurses union representing 150,000 registered nurses across the country.
Who: Lily Herbold, RN; Aviana Springs, RN; Ben Pesayco, RN; Aichi Ali, RN; Alejandra Gonzalez-Huitron, RN; and other RN members of National Nurses United
What: Action and RN media availability to speak out against lack of PPE and other protections for frontline health care workers
Where: 1225 Wilshire Blvd., Los Angeles, CA 90017 at the corner of Wilshire Blvd. and Witmer (we will be gathering along the side walks on both sides of Wilshire Blvd.)
When: Tuesday, June 2, 2020 between 6:30AM – 8:00AM (at change of shift)
Nurses are also available for interviews via phone or video call.
If you are interested in sending a camera crew to the press conference or in learning more about the situation at PIH Health-Good Samaritan Hospital, registered nurses will be available for the press.