Press Release
Palomar Health RNs, Caregivers Call Tentative Agreement a Win for Public Safety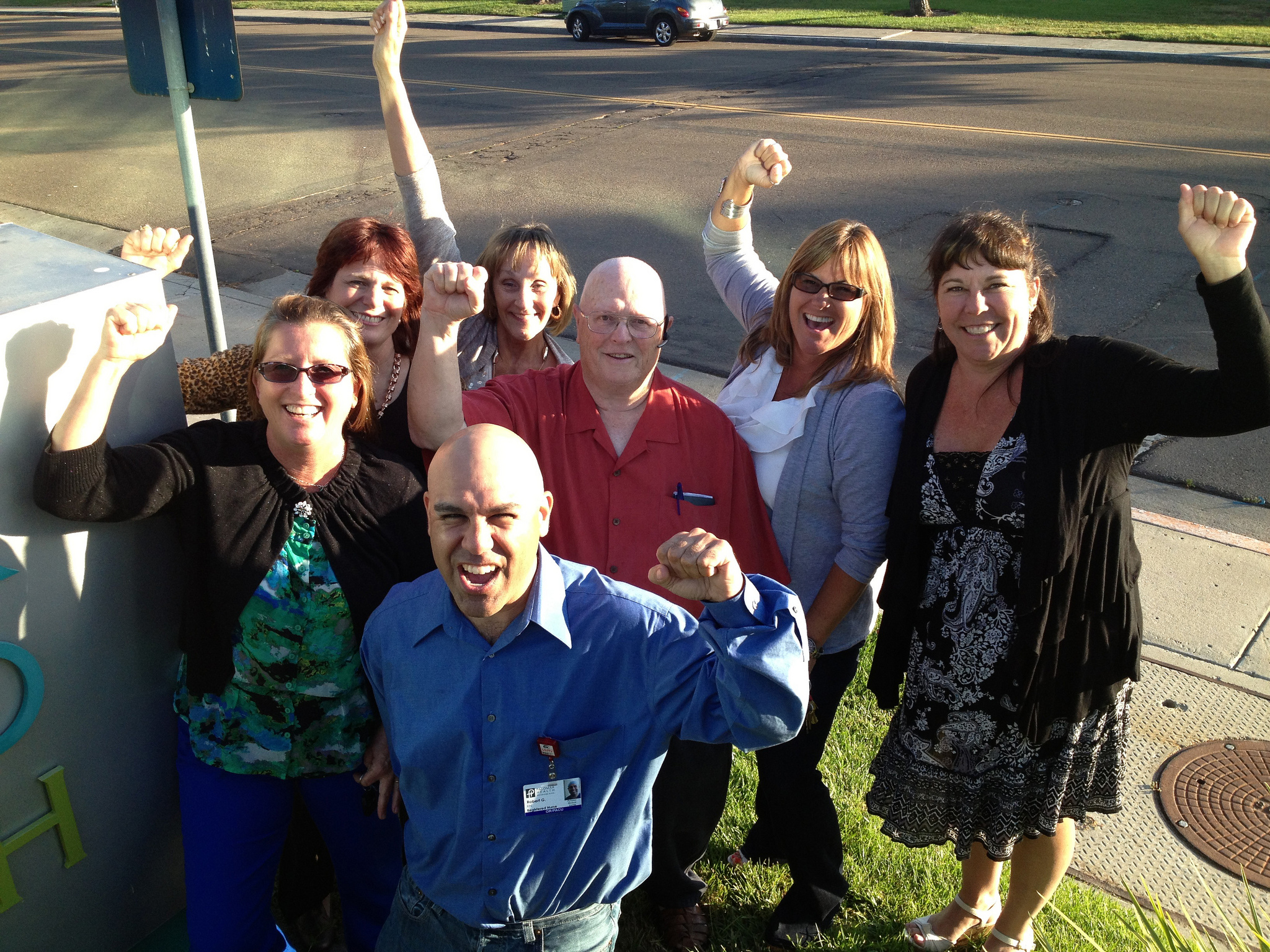 Hard-fought victory against cuts in patient care as District posts $99 million in surplus revenue in latest filings
Eight tough months of negotiations for registered nurses and service and technical staff that included protests at hospital board meetings, an overwhelming vote of no confidence in management, and caregivers' resolve to protect patient care have culminated in tentative agreements with Palomar Health District, the California Nurses Association (CNA) and Caregiver and Healthcare Employees Union (CHEU) announced today.
The agreements cover 3,150 employees represented by the California Nurses Association (CNA) and the Caregivers and Healthcare Employees Union (CHEU), a CNA affiliate. The RNs and other healthcare employees have been negotiating with Palomar since February on an agreement they said was critical to address patient care and RN recruitment and retention issues essential to the large community served by the hospitals.
Despite management's claims of poverty, largely due to their decision to build a huge new hospital on the hill at the edge of town, public records show that the health district posted $99 million in surplus revenue. *
Palomar's assault on patients and employees began this year as it closed a skilled nursing facility, implemented dozens of staff layoffs, and demanded huge cuts in employee health coverage and retirement security. The RNs and caregivers in late July took a vote of "no confidence" in the management of the Palomar and Pomerado hospitals, calling on the health district to change course from a path of closures and cuts even while giving CEO Michael Covert a $160,000 "performance award" bonus and a new four-year contract. Covert remains one of the highest-paid public employees in the nation.
Substantial gains were made in patient safety protections, and attempts to shift healthcare costs to caregivers and nurses and cut retirement benefits were all defeated in the final hours of bargaining. Nurses also improved their ability to influence quality of care through the addition of a patient classification system that will address staffing based on the level of care required for each patient. In addition, service and technical workers at the hospital gained a real voice in patient care with a first-time committee similar to one already maintained by the RNs.
"We were determined to beat back efforts to undermine our ability to keep skilled, experienced caregivers and nurses, and we kept that promise to the bedside RNs and technical and service workers," said Sue Phillips, a trauma RN at Palomar Hospital and member of the negotiating team. "We told hospital officials that we were never going to give up the pensions we worked a lifetime to build, and we'll never give up on patient care. We won both in this contract."
"We are very happy with the contract and now we're on to ratification," said Pacita Balcom, CHEU president and a negotiator who is a certified nursing assistant at Palomar West. "We know that the patient care committees in the contract can result in staffing improvements for better patient care. Like the nurses we work with, we take patient care very seriously."
The agreement also addresses health and safety issues that have plagued RNs, who statistically sustain a higher number of back injuries than truck drivers. The agreement provides a lift program that will help prevent injuries and ensure that nurses are available to assist patients effectively.
Highlights of the tentative agreements include:
Patient Care Improvements:
Patient Classification System Committee: Increased involvement by direct-care RNs in determining the level of staffing based on severity of illness of each patient.
New Patient Care Committee: A first-time-ever committee that gives service and technical staff a voice in patient care.
Safe Patient Handling/Lift Program: Hospital RNs have sustained a higher number of back injuries than truck drivers. RNs will now coordinate and direct patient lifts and mobilization, participating as indicated. A nurse who refuses to lift, reposition, or transfer a patient due to concerns about patient and/or worker safety, and lack of trained lift team personnel or equipment won't be subject to disciplinary action.
New Technology Won't Replace RN Clinical Judgment
RNs will be involved in evaluating new technology introduced in the workplace. New technology will not displace direct-care RNs or override their professional judgment
Benefits/Compensation
Health Insurance: Fought off attempt to significantly shift healthcare costs to nurses and caregivers. Employer was using the California Exchange's Gold Plan as a framework and using the Affordable Care Act as an excuse for needed cuts.
COBRA Health Insurance Extension: Employer will now subsidize the cost of COBRA coverage for one month in the event of layoff.
Wages: Pay scales for both RNs and caregivers preserved the integrity of regional wages
Standby and Call-Back Pay: Increased Standby Pay from the current $6.00 to $7.00/hour. If a caregiver is placed on standby, the shift will count toward a call-off shift.
Notification of Layoff: Increased the required 14-day notification to employees of a layoff to 30 days.
The four-year contracts, which cover more than 1,350 RNs and 1,850 caregivers, expire on May 31, 2017 and are retroactive from June 1, 2013. The agreements must still be approved through secret ballot elections in membership meetings scheduled for Aug. 20. It will then go to the District Health Board for final approval. The agreements cover hospital workers in all three district hospitals: Pomerado, Palomar, and Palomar West.
*Palomar Health Consolidated Financial Statements and Supplemental Schedules for the year ended 06/30/2012 (posted 12/20/2012) – most recent annual statement. http://emma.msrb.org/EA493642-EA383651-EA780482.pdft http://emma.msrb.org
 ###
RELATED NEWS: Hear and share the radio story by KPBS below
Palomar Health Reaches Four-Year Deal With Nurses, Caregivers