Press Release
In Orlando, Nurses to Push for Democratic Party to Put Medicare for All Pledge in Platform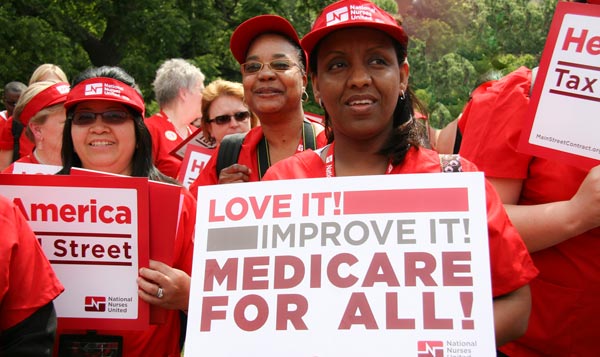 Registered nurse members of National Nurses United, healthcare advocates, and members of the Democratic Party Platform Committee will hold a press conference in Orlando Friday morning to call on the Platform Committee to add a pledge to support Medicare for all in the party's platform.
The press conference will be held at 10 a.m., outside the DoubleTree Hotel in Orlando, prior to the meeting of the full Platform Committee which is meeting in Orlando to adopt the platform language to be presented to the Democratic Convention meeting later this month in Philadelphia. 
What: Press: Conference, Nurses, Healthcare Advocates, Democratic Platform Committee Members Call for Democratic Party to Support Medicare for All
When: Friday, July 8, 2016, 10 a.m.
Where: Outside DoubleTree by Hilton Universal Orlando, 5780 Major Blvd., Orlando, FL, at corner of S. Kirkman Rd. and Major Blvd.
The press event will also be live streamed and can be viewed at 10 a.m. ET (9 a.m. CT, 7 a.m. PT) at http://www.nationalnursesunited.org/videos
Speakers are expected to include Democratic Party Platform Committee members Russell Greene, Progressive Democrats of America, Pam Gronemeyer, MD, and Michael Lighty, policy director for NNU; Florida RN Marissa Lee, board member, National Nurses Organizing Committee/NNU; Judy Lerma, RN, Health Care Now; and Geraldine Schaumberger, RN who testified before the platform drafting committee last month.
"While the Affordable Care Act has implemented some important improvements, the law has still left for too many behind," wrote NNU Executive Director RoseAnn DeMoro in a commentary in the Orlando Sentinel today. "Guaranteed health care" through an improved Medicare for all/single payer system "must be a uniform, national obligation that the Democratic Party makes a priority."
NNU's Michael Lighty, will introduce an amendment that calls on the platform to "fulfill" its stated goal to "guarantee" coverage for "every American" as well as to "control healthcare costs and eliminate financial barriers to care" by specifically supporting "improved Medicare for all."
Lighty will call on the committee to "build on the experience of Medicare, which shows that the most cost-effective and equitable way to provide quality care is through a single-payer system." 
Supporters of the Medicare for all amendment note that recent polls show that showing 58 percent of all Americans, and 81 percent of Democrats support Medicare for all, the very plan proposed by Sen. Sanders, and urged by NNU for decades.
In June, the platform drafting committee rejected a proposal from appointees of Sen. Bernie Sanders, who proposed an amendment to the platform pledging the Democratic Party to commit to "fighting for Medicare for all." The amendment was defeated 7-6 with all Sanders appointees in support and all Hillary Clinton appointees voting against it.