Press Release
Orange County nurses: Hospital industry attack on safe staffing puts lives of patients, nurses, workers at risk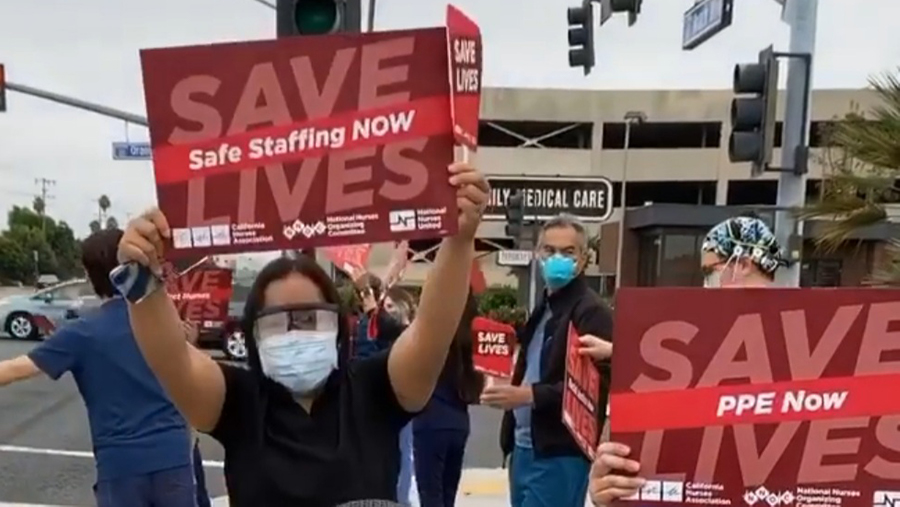 Registered nurses at KPC Global Hospitals: Anaheim Global (AGMC), South Coast Global (SCGMC) and Chapman Global 9CGMC), and also Prime Hospital: West Anaheim Medical Center (WAMC) will hold informational pickets at each hospital on, Wednesday, Dec. 23 to protest the recent waiver on safe staffing standards that has been granted to acute care hospitals, announced California Nurses Association/National Nurses United (CNA/NNU) today.
Nurses say they are urging KPC Global Hospitals to staff for safe patient care, not use the pandemic as an excuse to cut corners.
 
"Nurses are bearing incredible pressure to care for the patients due to the crisis. The employer should be making beds available by canceling elective surgeries for the foreseeable future.  Save those beds those who most need them and at the same time give the RNs a chance to truly care for these patients by not forcing Nurses to take patients that don't need a hospital right now", said Joseph Ho, a registered nurse at Anaheim Global Medical Center. "The public needs to know that the Hospitals are not doing everything they can to help the Nurses care for patients."
"We are getting slaughtered in the ER. We literally had to do a blood transfusion in the hallway. Ambulances are just leaving their patients in the ER because they are waiting too long for a bed, I don't even know how we can sustain this. Increased ratios mean less care for more patients and elective surgeries means a regular bed that could go to someone we are now holding for hours and days in the ER", said Rasha Tran, a registered nurse at West Anaheim MC. "We still do not have the proper PPE so the increase in patients only means increased risk for RNs just when we need them the very most."
Who: Registered Nurses at 4 Orange County Hospitals
What: Informational Pickets
When: Wednesday, Dec. 23, 6 a.m. to 8:30 a.m.
Where:
2601 Chapman Ave, Orange CA (on sidewalk in front to Chapman Global Medical Center).
1025 S. Anaheim Blvd, Anaheim CA (on sidewalk in front of Anaheim Global Medical Center).
2701 S. Bristol St. Santa Ana, CA (on sidewalk in from of South Coast Global Medical Center).
3033 W. Orange Ave, Anaheim, CA (on sidewalk in front of West Anaheim Medial Center on BEACH BLVD in front of WAMC Emergency Room).
CNA/NNU warned this week that a campaign by the hospital industry to exploit the pandemic as a pretext from rolling back safe staffing standards in California puts the lives of patients, nurses, and other health care workers at risk. During the pandemic, California hospitals have been bombarding state health officials for individual, temporary waivers in adherence to California's landmark state staffing law, which requires minimum levels of registered nurse staffing for various hospital units.
California's multi-billion dollar hospital industry fought for years to block the state's landmark safe staffing law, and then tried to overturn it, even though studies have shown the California law has resulted in up to 14 percent fewer patient deaths than in comparable hospitals, assured nurses more time to spend with patients, and kept nurses at the bedside far longer.
Since February, noted CNA/NNU Executive Director Bonnie Castillo, RN, "nurses have been working under enormous strain, putting their lives and safety in jeopardy, without enough personal protection equipment, and without sufficient hospital engineering controls to reduce the spread of infection that have turned hospitals into Covid-19 hot zones."
After a 12-year fight, safe nurse-to-patient staffing ratios were voted into law against the objections of the hospital industry in 2004. KPC Global Hospitals nurses say they will never stop fighting, especially given that the pandemic is the absolute worst time to overload nurses with patients whose conditions are even more severe than before the pandemic.