Press Release
Nurses' Bring #BernieBus and Message of Sanders Campaign to AFL-CIO Raising Wages in Las Vegas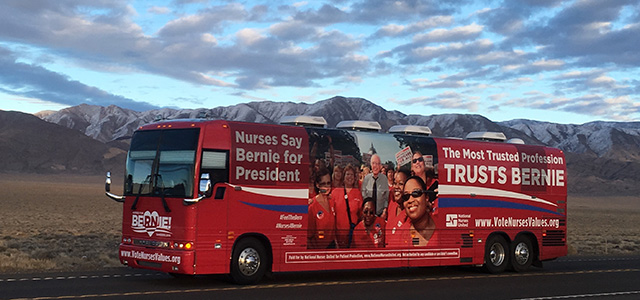 IMAGE CAPTION
CAPTION
-->
Most Viable Candidate on Fight for 15, TPP, Healthcare for All
National Nurses United today brought the message of their support for Sen. Bernie Sanders, along with the #BernieBus now traveling around Las Vegas, to the AFL-CIO Raising Wages Summit in Las Vegas.
 "At a time of stagnant wages for far too many, ongoing race and gender wage disparity, record income inequality, and an escalating attack on unions as a voice for working people symbolized by the anti-worker Friedrichs case, it is Bernie Sanders who has the most comprehensive program for lifting wages and income for all working people," said NNU Executive Director RoseAnn DeMoro, an AFL-CIO Vice President.
One example, DeMoro noted, is on healthcare. At its Executive Council meeting last July in Washington, the AFL-CIO reaffirmed its endorsement of expanding Medicare to cover all Americans (single payer healthcare) as a critical part of the Raising Wages campaign.

NNU billboard in South Carolina ahead of South Carolina primary Feb. 27
"With crushing medical debt imposing a harsh burden on 20 percent of even those with health insurance, and 63 percent of all people with medical debt using up all or most of their savings to pay medical bills, working people know there is a direct link between health care, wages, and income," said DeMoro.
"It is Bernie Sanders who has made expanding health care to everyone through Medicare for all, which is also the best way to solve the crisis of medical debt, a center piece of his campaign. All while Hillary Clinton has abandoned the goal of healthcare for all," DeMoro said.
"Bernie is the also the most viable candidate who is not only fighting for raising the minimum wage to $15 an hour, but has sponsored legislation to do so.
"Bernie was the first major candidate to oppose the Trans-Pacific Partnership, the latest trade deal which will harm U.S.

NNU billboard in Iowa ahead of Feb. 1 Iowa caucuses
"And it is Bernie Sanders who has advanced a concrete plan to create 13 million new, good paying jobs through a $1 trillion investment in rebuilding the nation's crumbling infrastructure, roads, dams, schools, water systems, and more," DeMoro noted.
"That's why working people, especially rank and file union members across the U.S., are campaigning for Bernie Sanders, and why he is rapidly rising in the polls," DeMoro said.
After Nevada, the #BernieBus will head east, with stops in Denver and Kansas City on route to Iowa for the February 1 Iowa caucuses before returning to Nevada for the February 20 caucuses.