Press Release
Nurses' Voice Impacts California Attorney General Decision on Dignity/Catholic Health Initiatives Merger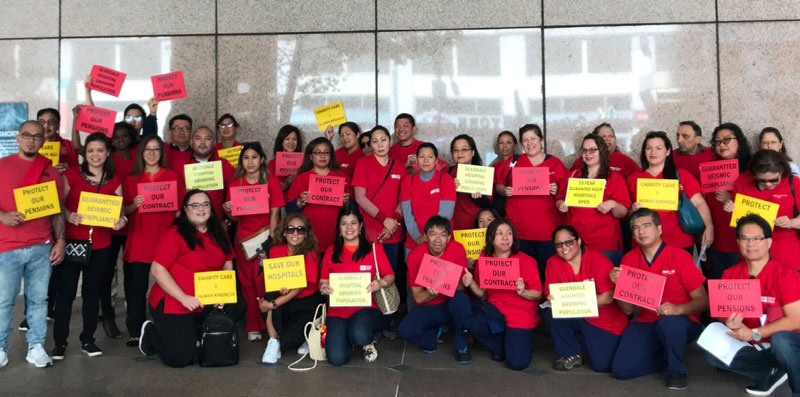 After speaking up at hearings throughout the state, California nurses are seeing their demands reflected in the terms of California Attorney General (AG) Xavier Becerra's approval of the merger between Dignity Health and Colorado-based Catholic Healthcare Initiatives (CHI), the California Nurses Association announced today.
"As nurses, we are the voice of patient advocacy in our communities, and we came together at every hearing on the merger to speak up for our patients, and for the working conditions that enable us to provide quality care," said Kathy Dennis, RN, of Mercy General Hospital in Sacramento. "We are proud of the positive impact our collective power had on this merger."
Key terms of the merger, highlighted by nurses, include:
Contract Protections: Dignity will fully honor the terms and conditions of nurses' hard-won collective bargaining agreement in all facilities, to the benefit of patient care and nurse health and safety. Nurses must be empowered to speak up for patients and for safe working conditions, without fear of retaliation.
Continuation of Hospitals and Services: Dignity Health must maintain required services at the vast majority of Dignity facilities for a minimum of 10 years with the remainder guaranteed for at least five years.
Women's Health Care Services: Dignity must maintain women's health services and reproductive services for at least five years. If Dignity seeks any changes after five years, they must go back to the AG.
Charity Care: Dignity must maintain current level of charity care, and remain in compliance with the requirement of the state of California.
Community Benefits: All current community benefits must be maintained for each individual hospital and be adjusted annually for inflation.
Dignity Pension Plan: The pension plan covering all nurse members is guaranteed, helping to retain experienced nurses for the community.
Earthquake Seismic Retrofit: Dignity Health shall commit necessary investment to meet and maintain OSHPD seismic compliance until 2030.
Additionally, Dignity must maintain all current city or county contracts and programs for five years or more, and a new mandate was added that Dignity, through the merger, expends $20 million over six years on a new homeless health initiative.
"Nurses will never be silent when a merger between major entities has such a huge impact on our communities," said Carol Koelle, RN, of St Bernardine Medical Center in San Bernardino. "We are proud that we spoke up to help protect the future of our hospitals and the communities we serve."