Press Release
Nurses: Threatened Daly City hospital closure poses significant threat to public amidst growing COVID-19 crisis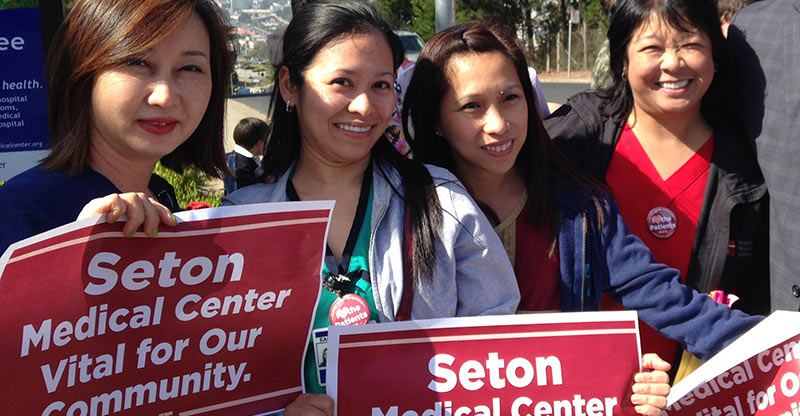 Registered nurses, joined by San Mateo County Supervisor David Canepa, will hold an emergency press conference Friday morning to call for urgent action to stop the threatened immediate closure of Seton Medical Center in San Mateo – an action nurses warn could endanger countless residents in the midst of the growing COVID-19 pandemic.
Daly City Council Member Pamela DiGiovanni and Colma Mayor John Goodwin, are also expected to join the press conference.
What: Emergency Press Conference on Threat to Close Seton Medical Center
When: Friday, March 6, 8:30 a.m.
Where: in front main entrance, Seton Medical Center, 1900 Sullivan Ave., Daly City
Verity Health System, the current operator of Seton, is pushing to close the hospital within days, according to reports of a closed-door meeting of hospital officials, the California Nurses Association/National Nurses United has learned. Earlier this year, Verity abruptly shut down one of the oldest hospitals in downtown Los Angeles, stranding patients and the community.
"With reports of a dangerous pandemic that is rapidly growing across California and poses a significant threat to our community, it is unconscionable that we could be facing the loss of our hospital with almost no public notice," warned Phoebe Minkler, an Intensive Care RN at Seton..
The RNs and Supervisor Canepa will urge state officials to join in the effort to block the closure. California Gov. Gavin Newsom on Wednesday declared a state of emergency after the first death of a patient infected with the virus which has already sickened at least 50 people in 12 counties across the state, including San Mateo County.
Tens of thousands of San Mateo and San Francisco residents rely on Seton for emergency care. In 2018 alone, Seton accounted for over 25,000 ER visits, and other hospitals in the region are already over stressed, and often on diversion.
"Amidst a major pandemic, we must come together to stop this unconscionable closure which could pose a frightening threat to our community and put patient lives in danger," said Michelle Kubato, a Medical/Surgical RN at Seton.