Press Release
Nurses at St. Mary's Regional Medical Center Vote Overwhelmingly to Ratify New Contract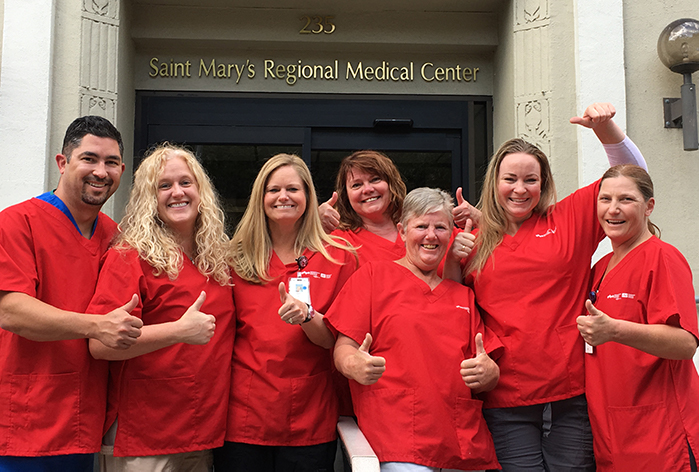 Registered nurses at St. Mary's Regional Medical Center in Reno, Nev. overwhelmingly ratified a new three-year contract, announced National Nurses Organizing Committee today. The agreement is the result of a bargaining campaign that included an informational picket and a strike pledge.
"We fought hard for an agreement to ensure safe patient staffing," said Tamara Erickson, an RN at St. Mary's for more than 29 years, and member of the bargaining team. "I am so proud that we were united and stood strong against management's proposed takeaways."
"With this new contract we will be able to be better advocates for our patients," said Jeremy Shea, an RN at St. Mary's for 17 years and member of the bargaining team. "We will be able to recruit and retain experienced nurses."
Highlights of the contract include:
Safe staffing for safe patient care. The new agreement protects safe nurse staffing, through minimum nurse-to-patient staff ratios and meal and break period protections. These safe staffing protections make for safe patient care, say nurses, which is what St. Mary's patients deserve.
Expanded nondiscrimination protections.
Economic gains and health benefit provisions to help retain and recruit experienced nurses.The new contract includes a minimum of 4 percent increase in pay for each year of the contract,with additional wage step and shift differential increases. The contract retains health benefits with no increases to health care premiums for the duration of the agreement.
To interview a nurse about the new contact Henry Soria, 702-496-0922; Dinorah Segura-Williams, 818-521-0208; or Chuleenan Svetvilas, 510-631-5337.
NNOC represents nearly 600 nurses at St. Mary's Regional Medical Center.
National Nurses Organizing Committee is a national union and professional organization for Registered Nurses, Advance Practice Nurses, and RN organizations who want to pursue a more powerful agenda of advocacy, promoting the interests of patients, direct care nurses, and RN professional practice. NNOC is proud to be an affiliate member of National Nurses United. NNU is the largest and fastest-growing union and professional association of registered nurses in the United States with more than 150,000 members nationwide. NNU plays a leadership role in safeguarding the health and safety of RNs and their patients and has won landmark legislation in the areas of staffing, safe patient handling, infectious disease, and workplace violence prevention.