Press Release
Nurses to Speak Out at St. Joseph Health/Adventist Health Public Meetings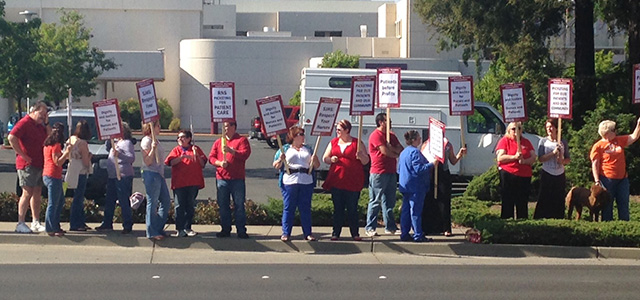 At a series of upcoming public meetings held by the California State Attorney General's office, registered nurses with the California Nurses Association/National Nurses United (CNA/NNU) will demand to know how the proposed merger between St. Joseph Health System and Adventist Health System/West will impact patient health and safety, the available level of health care services, and charity care services.
"From our experiences, hospital mergers result in service cuts and higher prices," says Tamara Hinckley, a registered nurse at Sutter Santa Rosa. "When decisions are made by health care executives to improve the bottom line, they always end up hurting our communities and the patients we care for."
Six public meetings will be taking place throughout Northern California, with the Sonoma County hearing concerning Santa Rosa Memorial Hospital in Santa Rosa.
What: Sonoma County Public Meeting on the Proposed Merger
When: Friday, June 28, 12 pm
Where: The Finley Community Center - 2060 W. College Ave., Santa Rosa, CA 95401
The proposed agreement would merge four St. Joseph Health System facilities in Northern California and five Adventist Health System/West facilities into a new jointly held charitable California limited liability company called ST Network, LLC.
At the hearing, CNA/NNU nurses will ask the office of California Attorney General Xavier Becerra to secure various terms, including:
Commitment to maintain all services and to keep hospitals open to serve the community for a minimum of 15 years. Nurses who work for Sutter Santa Rosa say that they are especially concerned about potential hospital closures or reductions in services and how those closures or reductions will affect the community.
Meet agreed-upon levels of charity care, health care provided for free or reduced prices to low-income patients, after the merger. RNs point out that despite increased scrutiny in recent years, culminating in a 2018 decision by Becerra to reject three California hospitals' appeals to be exempted from charity care obligations, recent data has shown a sweeping drop this decade in what California nonprofits overall are providing in charity care. 
Respect for collective bargaining agreements and RN rights after the merger, which include patient safety language and patient care protections, as well as RN wages, pensions, and benefits.
Ensure continued access to emergency care and women's health services.
Comply with all seismic requirements of California's Office of Statewide Health Planning and Development (OSHPD).
Invest in programs that alleviate homelessness and mental health within Sonoma County.
The California Nurses Association has 100,000 members and is affiliated with National Nurses United, the largest and fastest-growing union and professional association of registered nurses in the United States with more than 150,000 members nationwide.  CNA/NNU plays a leadership role in safeguarding the health and safety of RNs and their patients and has won landmark legislation in the areas of staffing, safe patient handling, infectious disease, and workplace violence prevention.